Aerospace Engineering Wins 10th Annual Alumni Cup Competition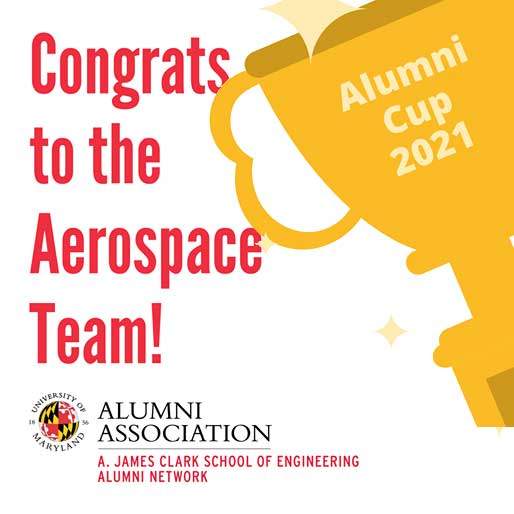 Congratulations to the Aerospace Engineering Team for taking both first place overall and the People's Choice Award in the 2021 Clark School of Engineering Alumni Cup Competition.
Each year the Alumni Cup Competition, presented by the Engineering Alumni Network, inspires student teams from each engineering discipline to think creatively and work together to design Rube-Goldberg style machines that can accomplish a simple task.
This year's team drew inspiration from the NASA Mars Perseverance Mission and tell the story of the rover's journey to Mars. With 23 total steps, the team's machine demonstrated the launch of Perseverance atop the Atlas V rocket as well as the rover's entry, descent, and landing onto the Martian surface before successfully dropping an egg (UMD's Perserverance, not NASA's) from two meters without breaking it, achieving the goal of the 2021 competition.
Watch their video:
The 2021 team was co-captained by Rachel Cueva & Jessica Bleich and included fellow team members Kruti Bhingradiya, Michael Kalin, Joynob Kaoshar, Joshua Martin, Jonathan Molter and Shailesh Mural.
This marks the second win for aerospace engineering since the competition began in 2012.
Published March 12, 2021