Aerospace Alumnus Awarded Distinguished Flying Cross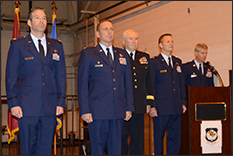 Aerospace Engineering alumnus Lt. Col. Paul C. Zurkowski, B.S. '85, was awarded the Distinguished Flying Cross with Valor for providing air support that saved the lives of 90 American troops during an engagement in Afghanistan. The award is given to those serving in the Air Corps of the Army who distinguishes themselves with heroism or extraordinary achievement while participating in an aerial flight.
"I saw tracer fire and I knew I was getting shot at but I went right back into supporting the ground troops. I turned away from the ground fire and got right back into providing fire support," said Zurkowski who was piloting one of several A-10C Thunderbolt IIs sent in to cover troops that were in contact on the ground with the enemy.
"I landed at Bagram and had maintenance look the plane over for battle damage. That is when they found the two bullet holes in the airplane...I knew I had been shot at, but I didn't know I had been hit until then," said Zurkowski.
Zurkowski was a co-op with the Edgewood Aerodynamics Group at Edgewood Arsenal at Aberdeen while he attended the University of Maryland. After graduating with his aerospace engineering degree, he worked with the Edgewood group full-time for several years in the 1980s. During that time, he took pilot training with the United States Air Force.
After serving on active duty, he joined the Maryland Army National Guard flying A-10s. He has completed several tours in Bosnia, Iraq and Afghanistan deployed from the 104th Expeditionary Fighter Squadron.
"For an A-10 pilot there is no greater satisfaction then to meet the guys you helped that day and hear them say - 'You are the reason I am alive today,'" said Zurkowski.
Zurkowski was honored with fellow pilot Major Christopher D. Cisneros during a ceremony at Warfield Air National Guard base on December 8, 2013.
When not serving with the National Guard, Zurkowski's 'day job' is flying Boeing 777s for United Airlines. His daughter Clare will soon be following in her father's footsteps. She is transferring from the Pratt Institute to the University of Maryland to study aerospace engineering.
To read the full story, visit the 175th Wing, Maryland Air National Guard website.
Published February 21, 2014