University of Maryland Center for Orbital Debris Education and Research Announces Keynotes & Event Sponsor OrionAST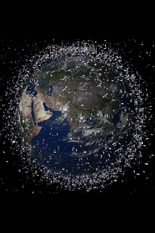 COLLEGE PARK, Md.—The University of Maryland (UMD) Center for Orbital Debris Education and Research (CODER) 2016 Workshop announces keynote speakers and a new sponsor partnership with Orion Applied Science & Technology, LLC (OrionAST), a Washington D.C. based company specializing in orbital asset protection and recovery.
Orbital debris is a global issue, and the ever-increasing volume of orbiting space debris could significantly hinder future economy and national security as the world's reliance on satellites for communications, research and defense grows. The CODER 2016 Workshop aims to address all facets of orbital debris related issues by bringing together thought leaders in the field, sharing new knowledge and ideas, and helping to bridge the gaps to finding sustainable solutions to the long-term challenges of orbital debris.
This year's sponsorship from OrionAST offers an exciting new opportunity to collaborate with a company that is bringing new technology to the forefront for safeguarding satellites and other space-based assets against the growing threat of orbital debris.
"Given Orion's mission, it is very exciting to be associated with the University of Maryland, CODER, and the talented professionals in attendance at the 2016 CODER Workshop," says Alvin Alexander, Founder and CEO of OrionAST. "CODER is highly regarded among the global leaders who are attempting to solve the problems posed by orbital debris, and this event is sure to provide many critical insights."
In addition to support from OrionAST, Alexander will also provide a lunchtime talk during the workshop and participate in the "Mitigation and Large Satellite Constellations" panel addressing operational risk and enhanced space situational awareness.
This year's keynote speakers include U.S. Representative and space advocate Jim Bridenstine (R-OK). Earlier this year, Bridenstine introduced the American Space Renaissance Act, a comprehensive space policy bill aimed at reinvigorating the United States' position as a leading spacefaring nation.
Additional speakers lined up to tackle tough orbital debris issues at this year's event include:
Travis F. Blake, Ph.D., Senior Manager
Advanced Technology Center Lockheed Martin Space Systems Company
John Emmert, Research Physicist, Naval Research Laboratory
Audrey Schaffer, Director for Space Strategy and Plans
Office of the Under Secretary of Defense for Policy
Walt Everetts, VP, Satellite Operations and Ground Development
Iridium Satellite, LLC
Charles Bacon, Chief Cooperative Servicing Engineer, NASA GSFC SSO, Orbital ATK
Bruce Fredericks, Program Manager, Space Fence Radar Development
Lockheed Martin, Rotary & Mission Systems (RMS)
In addition, the workshop hosts 12 panel sessions, spanning topics in Space Situational Awareness, the Space Environment, Mitigation Practices and Technologies, Remediation Technologies and Architectures and Space Policy.
"This year we have a packed three days of over 50 talks and interactive discussion from experts in all areas of the orbital debris enterprise," said Raymond Sedwick, CODER Director and UMD Keystone Associate Professor. "With a full day on Wednesday dedicated to policy, we're anticipating an exciting event with something for everyone."
The workshop will be held November 15-17, 2016 at the Riggs Alumni Center on the University of Maryland campus in College Park, Md.
Early registration, with reduced rate, closes Tuesday, November 8, 2016. On-site registration will be available.
This year's event is being held with support from the University of Maryland A. James Clark School of Engineering, Department of Aerospace Engineering and the Center for International and Security Studies at Maryland (CISSM) in the School of Public Policy.
About CODER
The Center for Orbital Debris Education and Research (CODER) is the first academically led center established to address the complete spectrum of issues surrounding the orbital debris problem. It addresses all types of issues related to orbital debris, including technology and systems, space policy, economics, legal and sociological issues. A long-term goal is the development of policies and technologies that will lead to the effective control and remediation of the orbital debris environment.
The center seeks domestic and international collaboration and inclusiveness and envisions multiple sources of government, industry and private support to become an international clearinghouse for research and educational programs.
For more information: www.coder.umd.edu
About OrionAST
Orion Applied Science & Technology, LLC ("OrionAST") is a newly launched company with an ambitious goal: to safeguard satellites and other space-based assets against the growing threat of orbital debris. Orion's innovative approach will provide Enhanced Space Situational Awareness© (ESSA), with real-time detection, tracking, and characterization of debris objects much smaller than the detection threshold of conventional technologies. Serving the global space community, OrionAST seeks to augment existing capabilities in an effort to preserve Earth's orbits for generations to come.
Published November 2, 2016