UMD Aerospace Engineering Students Receive VFF Scholarships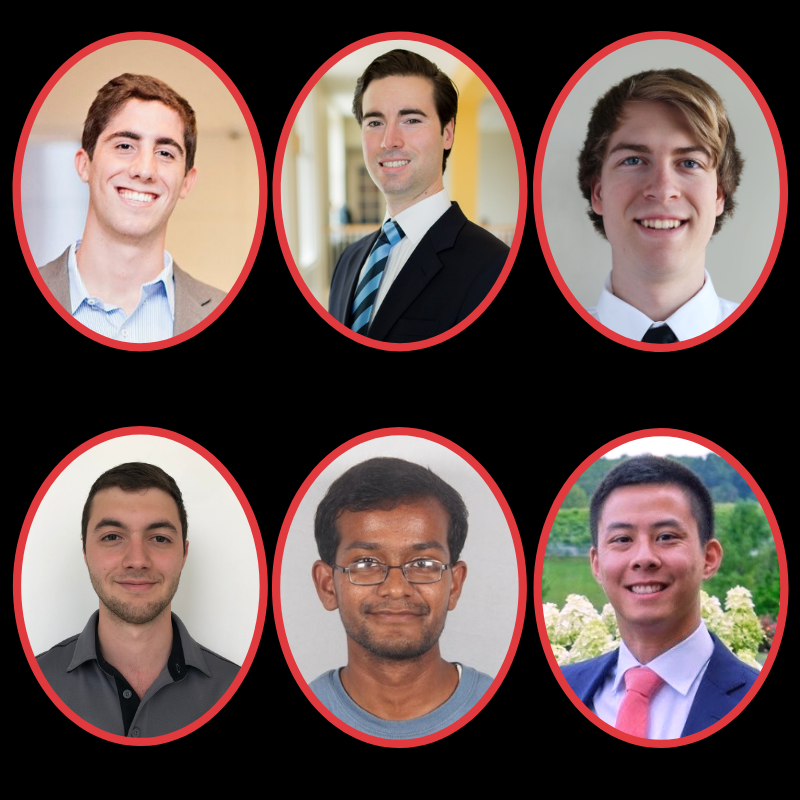 Six aerospace engineering students at the University of Maryland have received scholarships from the Vertical Flight Foundation (VFF), the philanthropic arm of the Vertical Flight Society (VFS).
Each year, VFF scholarships are awarded to the world's most talented college engineering students interested in vertical flight. This year VFF celebrated VFS's 75th anniversary by awarding 28 scholarships for a record total of $100,000.
Awardees will be recognized at the annual VFS Grand Awards Banquet on Wednesday, May 15, 2019.
Meet our awardees:
Daniel Escobar: Geoff Byham Scholarship

Daniel Escobar—a two-time VFF scholarship recipient and Clark Doctoral Fellow—is a Ph.D. student and member of UMD's Alfred Gessow Rotorcraft Center. In his graduate studies Escobar began an autonomous drone project for the VFS Autonomous Micro-Aerial Vehicle challenge (A-MAV), but has recently shifted his focus to the Mars helicopter. Escobar is a student member of VFS and the UMD chapter president. After graduation he would like to continue working in rotary wing research.

Thomas Herrmann: Robert Head Scholarship

Thomas Herrmann is a Ph.D. student and has been researching optimum control allocation for noise, performance, and fatigue life for advanced rotorcraft configurations with Professor Roberto Celi in the Alfred Gessow Rotorcraft Center. He has been a VFS member since 2016 and is currently working on a paper on the multidisciplinary, multi-objective trim optimization for a coaxial-pusher rotorcraft configuration for the VFS 75th Annual Forum in May. After graduation Herrmann hopes to work in aerospace engineering modeling and study handling qualities and vehicle flight dynamics for the design, development, and advancement of helicopters and rotorcraft.

Nicholas Rehm: Alfred Gessow Scholarship

Nicholas Rehm is a senior in the air track. He is specifically interested in micro-aerial vehicles and autonomous systems and has been an undergraduate research assistant at the Alfred Gessow Rotorcraft Center for over two years. Under Inderjit Chopra, Distinguished University Professor and director of the Gessow Rotorcraft Center, and Derrick Yeo, research educator, Rehm has been studying flow-aware computational wings for small fixed-wing unmanned systems, which will augment existing avionics packages to improve aircraft's ability to reject gusts and turbulence while in flight.

Derek Safieh Matheu: Marat Tishchenko Scholarship

Derek Safieh Matheu is studying aerospace engineering with a focus on rotorcraft, and is currently testing methods to aid the process of scaling the Quadrotor Biplane Tail-Sitter project. After graduation he hopes to create a company that focuses on the development of new VTOL (vertical take-off and landing) vehicles that provide urban transportation solutions, package delivery, or inspections.

Abhishek Shastry: Hal Andrews Scholarship

Abhishek Shastry is currently studying rotorcraft under Associate Professor Anubhav Datta. He is researching the aeromechanics and autonomy of eVTOL (electric vertical take-off and landing) vehicles. He wants to solve some of the issues that come with the new idea of cheap urban air mobility using electric propulsion during his stay at Maryland, before pursuing entrepreneurial opportunities in the field.

Frederick Tsai: Bell Helicopter Vertical Flight Scholarship

Frederick Tsai is master's student studying rotorcraft with a concentration in structural dynamics of tilting proprotors. He plans to pursue his doctorate while continuing this research at UMD. He is currently supporting the delivery of the Maryland Tiltrotor Rig (MTR), a design and manufacturing partnership with Calspan Systems Corporation. The MTR will be tested at the University of Maryland's Glenn L. Martin Wind Tunnel starting this year. After earning his doctorate Tsai hopes to have a career testing vertical flight aircraft with a tight-knit team of engineers.
Published April 29, 2019