Three UMD Students Named Twenty20s by Aviation Week
Three University of Maryland aerospace engineering students, Sylvie DeLaHunt, Elaine Petro and Lauren Trollinger, have been named "Tomorrow's Engineering Leaders: The 20 Twenties" by Penton's Aviation Week Network. The award, granted in partnership with the American Institute of Aeronautics and Astronautics (AIAA), recognizes top students in engineering, math, science and technology from across the country and globe, and connects the next generation of aerospace and defense talent with established leaders in the fields.
"These three graduate students have all demonstrated that they are outstanding scholars, as well as leaders in the Department of Aerospace Engineering," said Norman Wereley, Department Chair and Minta Martin Professor of Aerospace Engineering. "These women are outstanding examples of how well graduate students can flourish in our graduate program!"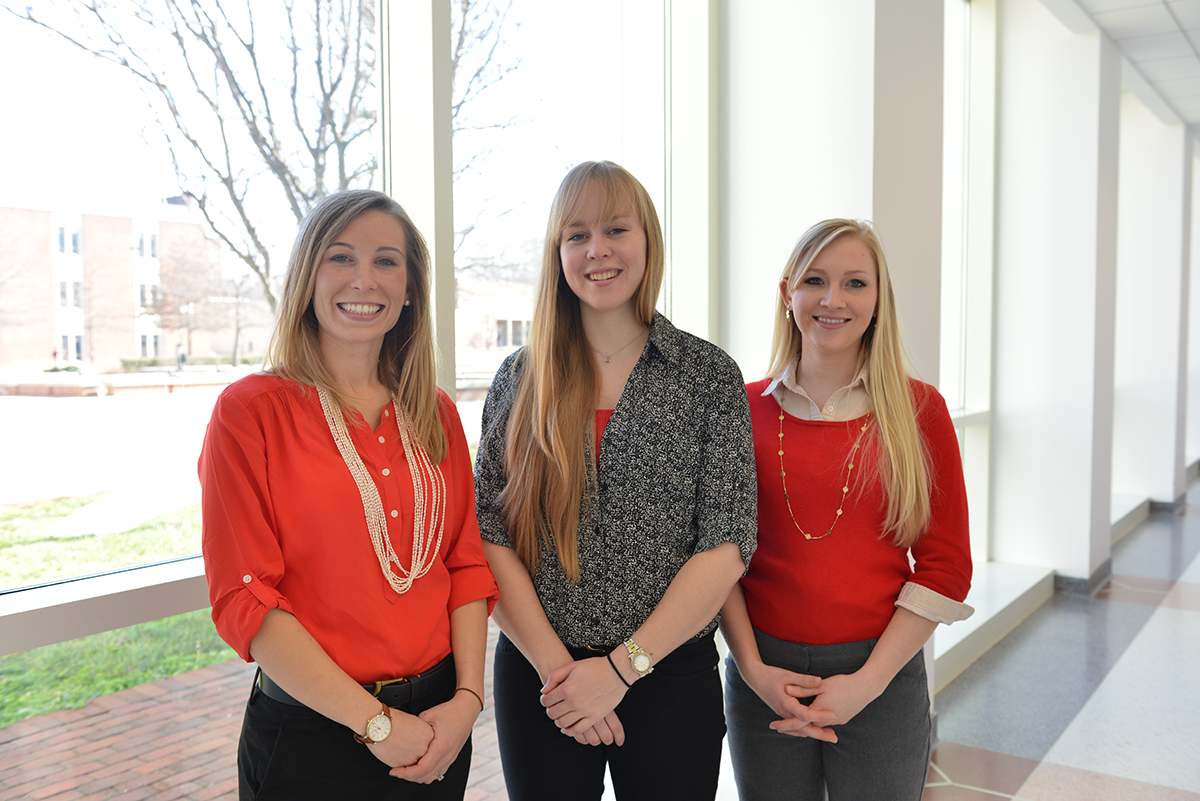 From left to right: Elaine Petro, Sylvie DeLaHunt, and Lauren Trollinger
DeLaHunt is a second year master's student working in flight dynamics and control with Wereley as her faculty advisor. In 2014, the National Science Foundation selected her as an NSF Graduate Research Fellow, and she has used its support to investigate the application of a variable recruitment control strategy to a bundle of miniature pneumatic artificial muscles (PAMs), as an attempt to mimic the selective recruitment of motor units in human muscles.
"It is really exciting to be one of Aviation Week's Twenty20s! I am especially pleased to be one of three women chosen from the University of Maryland," said DeLaHunt. "I think this is a great opportunity to show younger students that women are participating in exciting research and succeeding in the aerospace field."
During her time at Maryland, DeLaHunt has not only demonstrated outstanding academic achievements, but has also been a passionate advocate for promoting women's representation in the STEM fields. She is a founding member of UMD's Women in Aeronautics and Astronautics (WIAA), an organization created to foster a robust campus community offering opportunities for networking, professional and technical development and outreach to help attract and retain more women in aerospace engineering.
In addition, she has published an op-ed in the Baltimore Sun on "Encouraging Female Engineers," and received an honorable mention in The American Society for Engineering Education's (ASEE) Year of Action on Diversity Student Essay Contest.
Petro is a third-year Ph.D. student studying the field of electric propulsion under Associate Professor Raymond Sedwick. In particular, she is investigating the use of water vapor propellant for helicon thrusters. Her fascination with Aerospace Engineering and space travel started at a young age, when her family would take trips to NASA Goddard, and visit Florida to witness rocket launches.
"A lot things that are exciting to you when you're young, lose appeal as you grow up. But that was never the case for me with space and rockets," explained Petro.
Her enthusiasm for the field is obvious and she has been recognized frequently for her academic success. In 2014, she received an NSF Graduate Research Fellowship, and in 2015, a Zonta International Amelia Earhart Fellowship. Most recently, Petro was selected for the Clark School's 2016 Future Faculty Program. Through her research she hopes to extend our space exploration capabilities and as an educator, impact life here on Earth.
"I am truly honored to be grouped with all the other amazing students who were selected in this and previous years," said Petro. "I'm really excited to go with Sylvie and Lauren to meet the other students, Aviation Week staff and industry professionals at the award event."
Trollinger is a first year master's student specializing in rotorcraft under Dr. Chopra in the Alfred Gessow Rotorcraft Center. She has been a member of UMD's human-powered helicopter team, Gamera and she is currently working on this year's American Helicopter Society (AHS) Student Design Competition team. The AHS project aims to design a vertical takeoff and landing aircraft capable of delivering emergency supplies to disaster victims.
"It means so much to have been named one of AviationWeek's Twenty20s!" said Trollinger. "I am humbled to be listed among the incredible young men and women who, through their service, leadership and scholarship, are making such a difference in the aerospace community. I am incredibly excited to see what the future of the aerospace industry holds."
"The nominees for this year's 20 Twenties program reflect the diversity, ingenuity and remarkable talent found within the aerospace community," said Sandy Magnus, AIAA executive director, in a press release. "Each of these outstanding students, from across the United States, Europe and Asia, is making significant contributions to their fields of study – ranging from cryptology to autonomous systems to propulsion – as well as working to make the world a better place. Their research is shaping not only the future of aerospace, but the future of humanity, and each nominee is uniquely worthy of our praise and this award."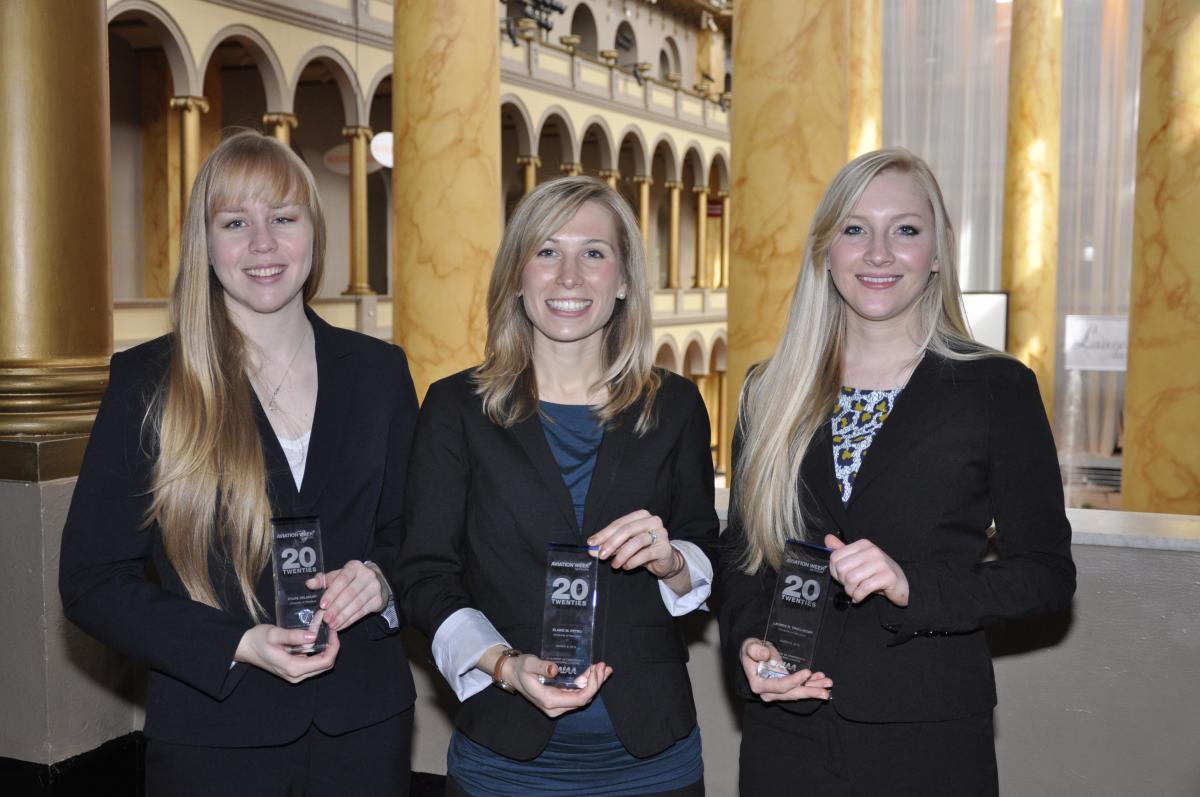 Winners were honored during Aviation Week's 59th Annual Laureates Awards held March 3, 2016 at the National Building Museum in Washington, D.C.
Published April 13, 2016