Shrestha Wins 2014 Dean's Masters Student Research Award Competition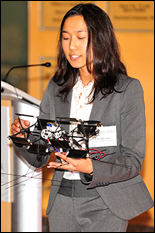 Aerospace Engineering graduate student Elena Shrestha takes first place in the Clark School's 2014 Dean's Masters Student Research Award Competition.
Shrestha presented to the awards judges' panel her contributions to the field of micro air vehicles (MAVs) from design and implementation of the first cyclocopter MAV to successfully achieve stable hover.
Additional work included the development of control strategies and wind tunnel testing that enabled the first successful forward flight of a cyclocopter. The awards panel recognized the value of this technology in accessing environments hostile to humans for both military and civilian applications.
"Their research accomplishments are a testament to the level of scholarship produced by Clark School students and faculty," said Clark School Dean and Farvardin Professor of Aerospace Engineering Darryll Pines.
Shrestha is advised by Alfred Gessow Professor Inderjit Chopra. As part of the award, her name will be added to plaques in both Martin Hall and the Kim Building.
Published May 29, 2014