Shrestha and Yanes Named Aviation Week Twenty20s
Department of Aerospace Engineering alumni Nelson Yanes (B.S. '14) and graduate student Elena Shrestha (B.S. '12) have been announced as two of "Tomorrow's Engineering Leaders: The Twenty20s" by Penton Aviation Week. This awards program, produced in partnership with Raytheon, recognizes top engineering, math, science and technology students. The program connects the next generation of aerospace and defense talent with established leaders who have created many of the "firsts" driving innovation in the 21st century.
"We have found that today's university students are undertaking research and innovation that solves some of the toughest questions engineers face today— from energy-related to mapping the brain," Greg Hamilton, Aviation Week president, said in an Aviation Week press release. "The individuals chosen for the Twenty20s program are engaged in this type of exploration, are proving themselves in the classroom, and are reaching out to the world beyond the campus to make a difference."
Yanes, who is now pursuing a Ph.D. in Aeronautics at the California Institute of Technology, was a member of both the Aerospace and University Honors Programs. While at Maryland, he received the NASA Aeronautics Scholarship, named a 2013 Philip Merrill Scholar and selected as a Senior Marshal for the May 2014 Commencement program, receiving a medallion for his achieve­ments. As an undergraduate he performed research on subsonic propulsion systems and developed a robust acoustic model for broadband noise for turbofan engines during his research at the NASA Glenn Research Center. Working with his men­tor, Dr. Christopher Cadou, Yanes completing numerous projects on the acoustics and thermodynamic performance of miniature two stroke internal-combustion engines and presented work at American Institute of Aeronautics and Astronautics (AIAA) Student Paper Conferences.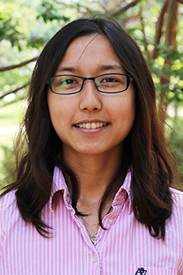 Shrestha is currently pursuing a Master of Science degree in aerospace engineering under the guidance of Inderjit Chopra, professor and director of AGRC, and Moble Benedict. Since 2010, she has been working on developing the cyclocopter, a revolutionary cycloidal rotor micro-air vehicle (MAV). Using a circular array of blades that rotate around a vertical axis, the cyclocopter has performance and efficiency advantages over conventional rotorcraft at MAV scales. Although the concept existed since the early 20th century, Shrestha's cyclocopter MAV was the first cycloidal rotor vehicle to achieve stable hover and for­ward flight as a result of her research efforts. Most recently, she was awarded the Dean's Master's Student Research Award for her cyclocopter research and was a member of the winning team for the American Helicopter Society's Student Micro-Air Vehicle Competition. In addition, Shrestha was a 2010-2012 L-3 Communication Scholar and 2011-2012 L-3 Women in Engineering Undergraduate Research Fellow.
Yanes and Shrestha will be honored during Aviation Week's annual A&D Programs Conference November 19-20 at the Wigwam Resort in Litchfield Park, Arizona.
For more information about the Twenty20's Program, visit: http://events.aviationweek.com/current/ad/index.htm
Published September 16, 2014