Shishika and Petro Selected for 2016 Future Faculty Program
Aerospace Engineering Ph.D. students, Daigo Shishika and Elaine Petro are two of 24 engineering students selected as fellows of the Clark School's 2016 Future Faculty Program. The goal of this program is to increase the number of highly qualified teachers the Clark School produces for the world's engineering schools and to prepare them to achieve career-long success in the academic world.
Petro is a third-year Ph.D. student studying the field of electric propulsion under Associate Professor Raymond Sedwick. In particular, she is investigating the use of water vapor propellant for helicon thrusters. In 2014, she received an NSF Graduate Research Fellowship, and in 2015, a Zonta International Amelia Earhart Fellowship. Through her research, she hopes to extend our space exploration capabilities and as an educator, impact life here on Earth.
"I want to do everything I can to be a strong faculty candidate," she said of her participation in program. "I'm hoping to learn all the things you don't learn through traditional graduate coursework about what it takes to succeed in academia and how to establish a research program."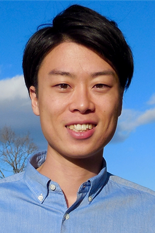 Shishika is a second year PhD student studying under Professor Derek Paley. His research focuses on the creation of bio-inspired flight control algorithms that enable multiple unmanned aerial vehicles to exhibit swarming and pursuit behavior resembling mosquito flight.
Shishika has a bachelors in aerospace engineering from the University of Tokyo. His goal is to someday become a professor in the field, and e hopes the program will help him to become a more successful researcher, mentor and teacher as he works towards that goal.
Published May 13, 2016