RASC-AL "Three-peat" for Clark School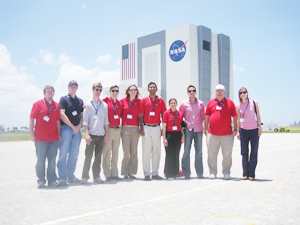 In the largest
Revolutionary Aerospace Systems Concept-Academic Linkage (RASC-AL)
field of all time, a Clark School-Arizona State University team took first place in the undergraduate division for their project, "Robotic Assist Vehicle for Extraterrestrial Navigation (RAVEN)."
2010 marks the third straight year Clark School undergraduates have placed first in the competition. This year's challenge focused on space transportation and lunar surface system infrastructure for a lunar outpost.
Clark School students in ENAE 483/484 work on the project that is entered each year into the RASC-AL competition. Prof. Dave Akin teaches the class and advises the team. Maryland Space Grant supported this year's project.
Among the other 19 schools competing this year were MIT, Georgia Tech, Virginia Tech, Princeton, Harvard, Michigan and Colorado.
Watch videos of the team testing out their rover:
http://www.youtube.com/watch?v=D6xzXgchoho
http://www.youtube.com/watch?v=VGY3YJoSYvQ
http://www.youtube.com/watch?v=QHEsYb1OBto
http://www.youtube.com/watch?v=yCXAn4oTc_I
Published June 10, 2010