Pines Receives UMD President's Medal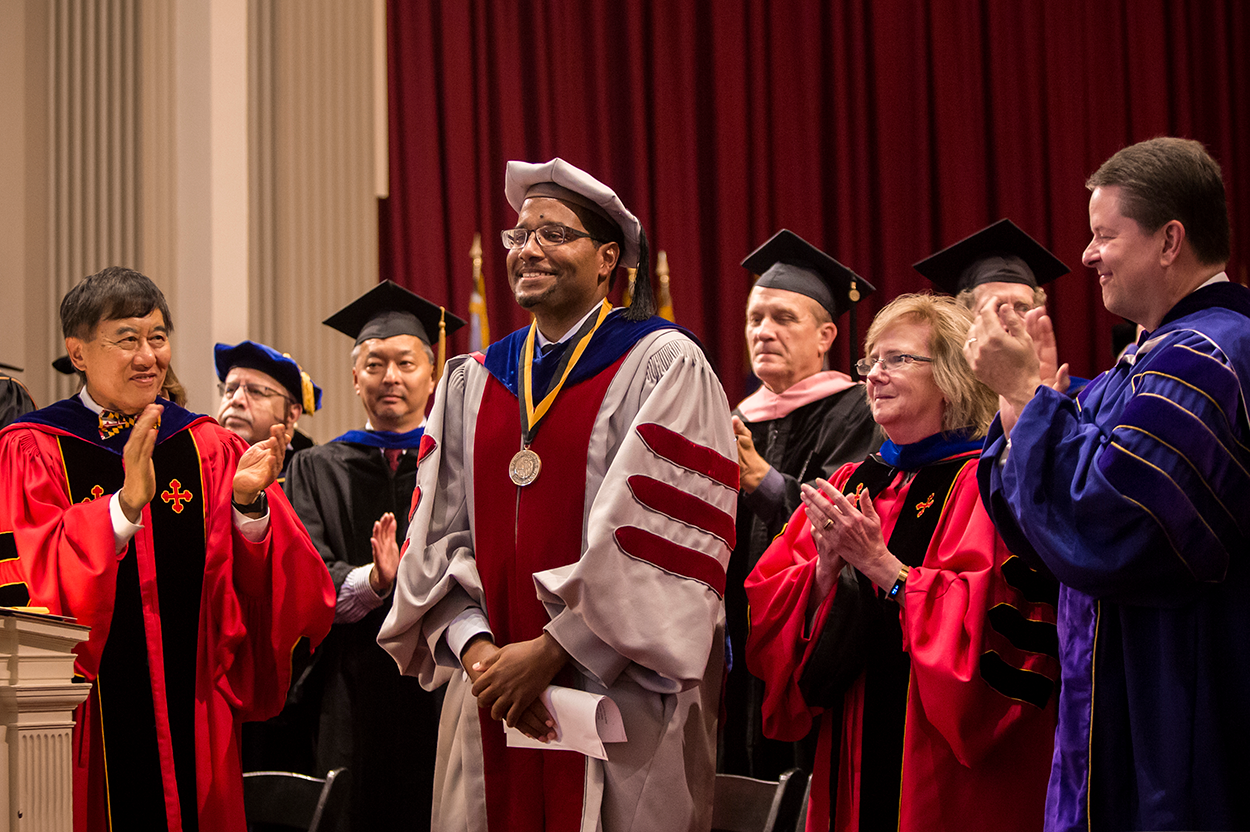 On September 12, 2018, Darryll Pines, Clark School dean and Farvardin Professor of Engineering, was presented with the President's Medal by University of Maryland President Wallace Loh at the 2018 Faculty and Staff Convocation. The President's Medal is the highest honor the university community can bestow.
In his nearly decade-long tenure as dean, Pines has established an enduring legacy of "more": more educational opportunity for students; more diversity at all levels; more advanced teaching and research facilities; and more prominence for his school on the global stage.
He has been an avid, award-winning teacher and scholar since his arrival at UMD in 1995, and as dean has stayed closely involved with undergraduate and graduate education—which includes taking a hand in global competitions and design challenges where Clark School students have distinguished themselves, like Gamera, a human-powered helicopter with the record for longest flight; Hyperloop, where UMD students earned top honors for their pod design; and the U.S. Department of Energy Solar Decathlon competition, in which UMD students have earned first and second places in recent years.
Pines's focus on targeted recruitment and advising has paid off in one-year retention rates and five-year graduation rates of 91 and 75 percent, respectively—ranking among the top five public flagships nationwide and highest in the engineering school's history. A priority for Pines is giving everyone with talent a chance to succeed, regardless of gender or racial or ethnic identity. Among undergraduates, women now compose 26 percent of the student body, compared to 18 when Pines became dean, and the percentage of underrepresented minority undergraduates has risen from to 9.5 to 15 percent. The Clark School ranks in the top 10 for degrees awarded to African Americans at the B.S., M.S., and Ph.D. levels.
Additionally, students in both engineering and other disciplines are benefiting from Pines's stewardship in securing a $219.5 million investment—among the largest gifts ever to a public university—from the A. James & Alice B. Clark Foundation. Building Together: An Investment for Maryland is funding need-based scholarships campus-wide, as well graduate fellowships, faculty positions, infrastructure, and other initiatives to elevate the Clark School.
Published September 13, 2018