Palacio Awarded ABWA Legacy Scholarship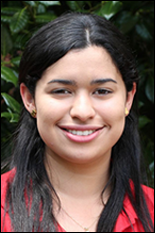 Department of Aerospace Engineering undergraduate Gladys Palacio has been awarded the 2013 American Business Women's Association (ABWA) Legacy Scholarship. The Legacy Scholarship is a national scholarship and is awarded in honor of ABWA member Freda Zimmerman.
Palacio is a sophomore in the space track of aerospace engineering. During her freshman year, she participated in the High Altitude Balloon Payload Project with Dr. Mary Bowden in the Space Systems Laboratory.
Over the summer, Palacio was a program coordinator and teacher for the Engineering Science and Technology to Energize and Expand Young Minds (ESTEEM/SER-Quest) program run by the Center of Minorities in Science and Engineering, and this fall, she will be working as a Clark School Ambassador to talk to prospective high school students about the engineering field.
Palacio is also the Junior Chair for the Society of Hispanic Professional Engineers (SHPE) and a part of the Flexus: Women in Engineering Living and Learning Community.
The scholarship includes a $5000 award and is given through the Stephen Bufton Memorial Education Fund established to assist women in achieving success through educational opportunities.
Published July 31, 2013