Oran Receives APS 2013 Fluid Dynamics Prize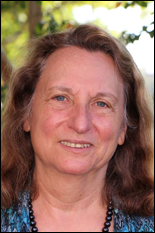 Department of Aerospace Engineering Elaine Oran has won the American Physical Society (APS) 2013 Fluid Dynamics Prize. Oran was selected for her "seminal contributions to the understanding of reactive flows through computational simulations, especially the deflagration-to-detonation transition in gases and supernovae." The APS Fluid Dynamics award, established in 1979 with support from the Office of Naval Research, recognizes major contributions to fundamental fluid dynamics made during a career of outstanding work.
Oran joined the University of Maryland this past summer as a Glenn L. Martin Institute Professor of Engineering. Oran's research includes work on chemically reactive flows, turbulence, numerical analysis, high-performance computing and parallel architectures, shocks and shock interactions, rarefied gases, and microfluidics, with applications to combustion, propulsion, astrophysical explosions and micro-sensor design.
Oran is both an American Institute of Aeronautics and Astronautics (AIAA) Fellow and an AIAA Honorary Fellow, as well as a member of the National Academy of Engineering, the highest honor to which any aerospace engineer can aspire. She is a fellow of the American Society of Mechanical Engineers (ASME), the Society of Industrial and Applied Mathematics (SIAM) and the American Physical Society (APS).
Oran will be recognized at the Annual American Physical Society Division of Fluid Dynamics 66th Annual Meeting held November 24-26, 2013 in Pittsburgh, Pa.
To learn more about Oran and her research, visit her faculty webpage.
To learn more about the American Physical Society and the Fluid Dynamics Prize, visit their website.
Published November 18, 2013