Marcus and Sloane named NSF Fellows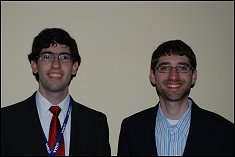 Matthew Marcus and Joshua Sloane, both graduating seniors, have been awarded NSF Graduate Research Fellowships. The NSF Graduate Research Fellowship Program (GRFP) recognizes and supports outstanding graduate students in NSF-supported science, technology, engineering, and mathematics disciplines who are pursuing research-based master's and doctoral degrees at accredited United States institutions. As the oldest graduate fellowship of its kind, the GRFP has a long history of selecting recipients who achieve high levels of success in their future academic and professional careers.
Fellows benefit from a three-year annual stipend of $30,000 along with a cost of education allowance for tuition and fees in the amount of $10,500, opportunities for international research and professional development, and the freedom to conduct their own research at any accredited U.S. institution of graduate education they choose. Learn more about the program here.
Matthew Marcus, is a member of the Aerospace Engineering honors program. As the 2011-2012 President of the Sigma Gamma Tau UMD chapter, Matt was instrumental in working to reintroduce the chapter to the UMD engineering community. Matt also worked to develop a strong relationship with Tau Beta Pi through joint service activities. He was awarded the 2012 AIAA Foundation Space Transportation Technical Committee Scholarship and the 2011 AIAA Junior Foundation Scholarship. Matt is also the 2012 recipient of the H. Russell Knust Memorial Scholarship, the 2011 recipient of the Shirley C. Sorenson Academic Excellence Award from the UMD Phi Kappa Phi Foundation, and he was awarded the College Park Scholars ETE Outstanding Achievement Award. Matt is currently conducting departmental research pertaining to wireless power transfer using superconducting resonantly coupled coils and plans to continue this research for his masters thesis. In addition, Matt works part time at the NASA Goddard Space Flight Center with the Satellite Servicing Capabilities Office.
Joshua Sloane is in Aerospace Engineering Honors, University Honors, and Gemstone student in the astronautics track. Josh was the recipient of the Joseph Guthrie Memorial Scholarship in 2012, and the ASPIRE Research Scholarship in Summer and Fall 2012. From 2010 to 2011, he was president of the Society of Inquiry, a student group that promotes science and critical thinking to the University of Maryland community. Josh works with Dr. Raymond Sedwick researching Multi-grid Inertial Electrostatic Confinement Fusion in the Space Power and Propulsion Lab, and will continue working in this lab for graduate school.
Published April 3, 2013