L'Oreal Fellowship Presented to Ugrina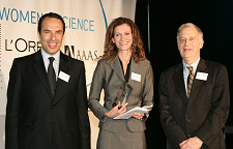 Sandra Ugrina, PhD'07 (AE), an aerospace engineering department research associate and resident at the National Institute of Aerospace at Langley, VA has been awarded an esteemed L'Oreal USA for Women in Science (FWIS) Fellowship.
From a competitive pool of 200 candidates, a jury composed of eight eminent scientists and former L'OREAL-UNESCO for Women in Science Laureates and presided over by Dr. Ralph Cicerone, President of the National Academy of Sciences, selected five post doctorate fellows from various institutions across the country. Each Fellow was awarded a $40,000 grant over a period of 12 months to advance and expand their independent research interests with applications critical in today's society.
The L'Oreal USA Fellowship for Women in Science is a national awards program designed to recognize and encourage exceptional female researchers to serve as role models for younger generations and to raise the awareness of the role and importance of women in scientific research. The awards ceremony held this spring was preceded by a panel discussion which included Dr. Shirley Ann Jackson, president of Rensselaer Polytechnic Institute who was also honored with the L'Oreal USA for Women in Science Role Model Award.
Ugrina intends to use the fellowship to continue her research in active flow control. The fellowship will help her investigate a different aspect of the problem one focused on laminar flow control. Proposed research includes a design of a distributed parameter control system that would actively extract energy from the boundary layer disturbances.
Ugrina received her doctoral degree in Aerospace Engineering in 2007 under the mentorship of Dr. Alison Flatau. She is currently employed at the National Institute of Aerospace (NIA), mentored by Dr. James Hubbard, Jr. As a result of the organized events, schedule permitting, she hopes to engage more actively in the L'Oreal for Girls in Science initiative and the AAAS conferences.
Published June 12, 2008