Jones, Zhou Win Air Force Research Awards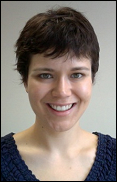 Assistant Professor Anya Jones (aerospace engineering) has received an Air Force Office of Scientific Research (AFOSR) Young Investigator Award for her proposal "Lift Production on Flapping and Rotary Wings at Low Reynolds Numbers."
Electrical engineering alumna Enlu Zhou (Ph.D. '99) also received an award for her proposal "Dynamic Decision Making under Uncertainty and Partial Information."
The objective of the AFOSR Young Investigator Program is to foster creative basic research in science and engineering, enhance early career development of outstanding young investigators, and increase opportunities for the young investigators to recognize the Air Force mission and the related challenges in science and engineering.
Read the full release about the awards program and this year's winners.
Published January 17, 2012