Jones and Sedwick Win DURIP Instrumentation Awards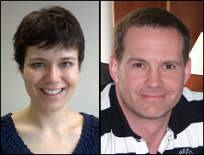 Ray Sedwick, Associate Professor of Aerospace Engineering, and Anya Jones, Assistant Professor of Aerospace Engineering have each received research grants through the DoD Defense University Research Instrumentation Program (DURIP). This program is administered through the Air Force Office of Scientific Research, the Army Research Office, and the Office of Naval Research. The DURIP program is for the acquisition of major equipment to augment current or develop new research capabilities to support research in the technical areas of interest to the DoD.
Dr. Sedwick's grant is for the procurement of a high power pulsed laser system to be used for the generation and study of dusty plasmas and their impact on material surfaces. The goal of the research is to characterize the impact of small space debris on spacecraft in earth orbit. A secondary use of the hardware will be to test the effectiveness of laser ablation as propulsion for the removal of large space debris from orbit.
Dr. Jones' grant is for a gust-enabled towing tank, instrumentation, and control system that will allow a low-Reynolds number model (e.g. bird, insect, MAV) to "fly" through a field of well-characterized gusts underwater. The goal of this research is to understand how atmospheric wind gusts and unsteady flight environments affect the aerodynamics of small-scale vehicles. This equipment will also be used for experiments to characterize control response and vehicle handling in unsteady flight environments.
Find Drs. Sedwick and Jones' profiles on the aerospace department's faculty listing page.
Published June 14, 2012