Hubbard Named ASME Fellow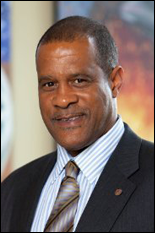 Department of Aerospace Engineering Samuel P. Langley Distinguished Professor James E. Hubbard, Jr. has been named an American Society of Mechanical Engineers (ASME) Fellow.
Hubbard is the Director of both the University of Maryland's Morpheus Laboratory and the National Institute of Aerospace's Alex Brown Center for Adaptive Aerospace Research. He received his Bachelor of Mechanical Engineering (1977), Master of Mechanical Engineering (1979) and Doctor of Philosophy (1982) from the Massachusetts Institute of Technology (MIT).
Hubbard's 30-plus year career has spanned both industrial and academic settings, and he has received several awards for his work, including the 2009 Smart Structures Innovation Award from the International Society for Optical Engineering and the 2002 Black Engineer of the President's Award from U.S. Black Engineer & Information Technology magazine. His work has resulted in 2 dozen patents, and he has served as a member of the Air Force Studies Board, the Naval Research Advisory Committee and the Committee on Space Defense Technology.
The ASME Committee of Past Presidents confers Fellow grade memberships on worthy candidates to recognize their outstanding engineering achievements. Nominated by ASME Members and Fellows, an ASME Member has to have 10 or more years of active practice and at least 10 years of active corporate membership in ASME.
For more information on Dr. Hubbard, and his research, visit his webpage or the Morpheus Laboratory website.
Published May 28, 2015