High-Flying Technology to Be Recognized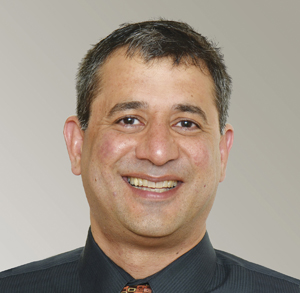 The innovator behind the rotor blade technology used on the fastest helicopter produced will be inducted into the Clark School's Innovation Hall of Fame on Thursday, November 8, 2012, at 4:30 p.m.

Ashish Bagai, a Clark School aerospace engineering alumnus, is an aerodynamicist. He was principal engineer at Sikorsky Aircraft Corp. in 2010 when a team of Sikorsky engineers built the Sikorsky X2 Technology DemonstratorTM (X2), a helicopter that can fly 100 mph faster than current production models, with increased maneuverability, endurance and high-altitude performance.

The Sikorsky team earned the prestigious Robert J. Collier Trophy--one of aviation's highest honors--for its innovation. The X2 will, according to the company, change the way helicopters operate, delivering higher speeds and radically improved performance in medical, search and rescue and military applications, while maintaining the efficient hovering and low-speed attributes of conventional rotorary-wing aircraft. Bagai was responsible for the aerodynamic design of the aircraft's main rotor blades, a key element in its success.
For more information, please see our coverage of the Collier Tropy online.
The Clark School's Innovation Hall of Fame recognizes innovation at the concept, design or working level of engineering, and the benefits innovation brings to society. Clark School alumni, students, and faculty, as well as other individuals with a strong connection to the Clark School, are eligible for selection.
This year's Innovation Hall of Fame Induction Ceremony will be followed by the 2012 Charles and Helen White Symposium on Engineering Innovation titled "The Impact of Helicopters in Society Today: Search and Rescue, Law Enforcement, and National Defense, with a Special Appearance by the Gamera Human-Powered Helicopter Team." The symposium will take place at 5 p.m. in the rotunda of the Kim Engineering Building on the College Park campus. Both events are open to the public.
More Information
Innovation Hall of Fame 2012 Induction Ceremony Information
2012 White Symposium on Engineering Innovation


Published October 24, 2012