Helicopter Society Honors Datta's Work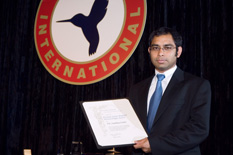 "His research is already being perceived as a break-through."
The American Helicopter Society (AHS) International gave its François-Xavier Bagnoud Award to Anubhav Datta, assistant research scientist and lecturer in the Clark School's Department of Aerospace Engineering. The award, established in 1992, recognizes outstanding contributions to vertical flight technology by an AHS International member under the age of thirty. A Clark School alumnus, Datta completed his Master of Science and Ph.D. degrees in May 2002 and August 2004 respectively.
Datta joined the Alfred Gessow Rotorcraft Center in 1998 as a Graduate School Fellow and subsequently became assistant research scientist at the Center. According to his faculty advisor, Dr. Inder Chopra, "Recently, the Alfred Gessow Rotorcraft Center received two major multi-year research programs from ARO and DARPA, and Anubhav is playing a key role in both of them. His research is already being perceived as a break-through to predict vibratory loads and would have an enormous impact on the future development of low vibration rotorcraft." Dr. Chopra recommended Dr. Datta for the Bagnoud Award.
Over the years, Datta has received three AHS Best Paper Awards, an AHS Best Presentation Award, the AIAA Orville and Wilbur Wright Graduate Award, and a Vertical Flight Foundation Award, and was a Minta Martin Fellow.
Datta was also the leader of the 2000 University of Maryland graduate student team which won first place in the annual American Helicopter Society/Sikorsky/NASA design competition for a helicopter designed to fly on Mars. He has authored several publications, given numerous presentations and lectures on his research and taught graduate courses in rotorcraft for the Clark School.
Published July 6, 2006