Harrington receives 2nd place honors at ARL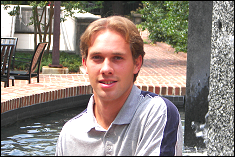 As a intern at the Army Research Laboratory (ARL), Aerospace Engineering student, Aaron Harrington, published a research paper in the ARL's scientific journal and received second place honors including a $300 cash prize.
During the summer of 2007, Harrington had the opportunity to design an entire autopilot. Using programmable integrated circuits (PIC chips), as a 16-bit processor that would drive the autopilot, Harrington applied his C programming knowledge and developed his own software using Ubuntu Linux. Harrington was the sole developer of this software, and was provided assistance for debugging through a fellow employee. In addition, he learned how to use EAGLE (Easily Applicable Graphical Layout Editor) to design printed circuit board designs and used a CNC mill to cut the boards out.
His first prototypes used DIP size electronic parts and once the PCB layouts were more optimized he learned how to make boards using SOIC chips and surface mount parts. This enabled him to make the platform completely autonomous by using a differential GPS and pre-programming missions that consisted of up to 50 GPS points.
Published September 5, 2007