FOX5 DC Highlights UMD UAS Test Site's Role in NASA UTM Test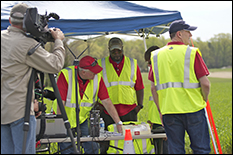 On Tuesday, April 19, NASA and operators from the Federal Aviation Administration's (FAA) unmanned aircraft systems (UAS) test sites across the country flew 22 drones simultaneously to assess rural operations of NASA's UAS traffic management (UTM) research platform.
FOX5 DC visited the University of Maryland's Unmanned Aircraft Systems Test Site team, which spent the day in Bushwood, Md. Full video is available online.
"Working on technologies that will support integration of unmanned aircraft systems into the national air space is a critical piece of the University of Maryland Unmanned Aircraft Systems (UAS) Test Site's mission," said Matt Scassero, director of the UMD UAS Test Site and associate director of the Mid-Atlantic Aviation Partnership (MAAP).
More information about NASA's UTM research platform is available online.
Published May 2, 2016