Forum Highlights Inclusion in Engineering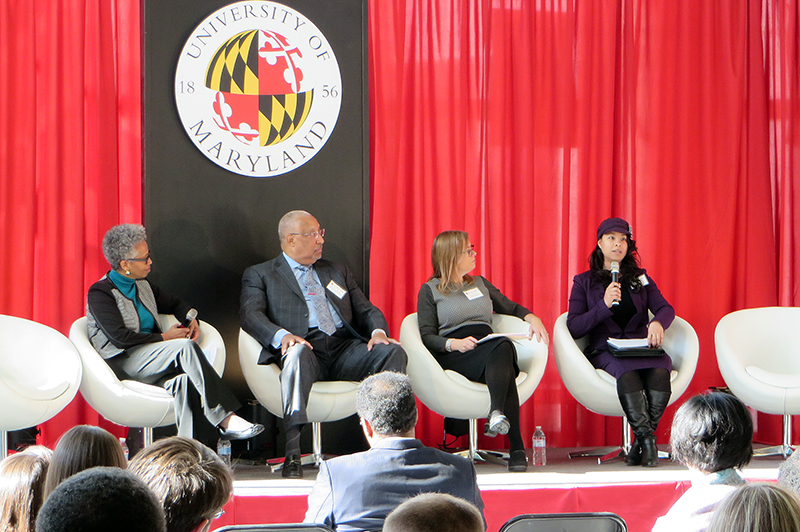 Furthering its commitment to foster inclusion in engineering, the University of Maryland (UMD) A. James Clark School of Engineering hosted "A Day of Inclusive Excellence" in late March 2016. The forum, launched in support of UMD's Maryland Dialogues on Diversity and Community, brought together students, faculty, and staff for an open discussion about how the Clark School can enhance the education and research experiences of all members of its increasingly diverse community.
"The evolving demographic landscape of the U.S., the need for constant economic competitiveness, and the upholding of our core values to ensure equal opportunity and access to those who seek it all point to the importance of actively embracing inclusiveness in all our endeavors," said Farvardin Professor and Clark School Dean Darryll J. Pines.
Ernesto Felix of The Intel Corporation delivered the keynote address on how diversity impacts innovation in high technology companies, followed by a panel discussion on the importance of diversity in STEM education moderated by Kumea Shorter Gooden, UMD's chief diversity officer. Panelists included Tasha Inniss, National Science Foundation program director; Irving Pressley McPhail, executive director of the National Action Council for Minorities in Engineering; and KerryAnn O'Meara, UMD professor of higher education and director of the ADVANCE Program.
The final panel of the day, which focused on the student perspective, featured students from aerospace, bio, chemical, electrical, and mechanical engineering.
To watch a video of the forum, click here.
The A. James Clark School of Engineering at the University of Maryland serves as the catalyst for high-quality research, innovation, and learning, delivering on a promise that all graduates will leave ready to impact the Grand Challenges (energy, environment, security, and human health) of the 21st century. The Clark School is dedicated to leading and transforming the engineering discipline and profession, to accelerating entrepreneurship, and to transforming research and learning activities into new innovations that benefit millions.
Follow us on Twitter @ClarkSchool.
Published March 24, 2016