ENAE100 has Final Poster Presentations in Kim Building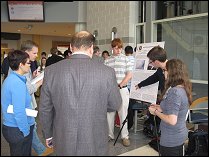 Students in ENAE100 the Aerospace Engineering Profession competed in their year end poster session on December 11th in the rotunda of the Jeong H. Kim Engineering building. Students work in groups and select a project topic recommended by aerospace faculty. Students complete the project with the help of their faculty adviser and/or a graduate student mentor and are required to present a poster explaining the findings of their project to faculty judges.
This year the aerospace department, with contributions from the faculty, offered prizes of $500, $300, and $200 for first, second, and third places respectively. Here are this year's winners:
1st Place: Analysis of High Altitude Balloon Payload ($500)
• Edward Carney, Frank Cianciarulo, Gladys Placio, Rose Weinstein,
• Faculty Adviser: Dr. Mary Bowden
• Graduate Student Mentor: Connie Ciarleglio
2nd place: Micro-Aerial Vehicle: Directionally Operating Nautical Copter (DONC) ($300)
• Deric Solomon, Dan Arble, Maks Berger, Tim Furman, Derek Dougal
• Faculty Adviser: Dr. Derek Paley
3rd Place: Inflatable Structures Testing ($200)
• Elizabeth Cutchin, Ryan Duffy, Victor Knez, Younese Mekonnen, Harif Balogun
• Faculty Adviser: Dr. Dave Akin
• Graduate Student Mentor: Kevin Davis
Honorable Mention: Microrover Performance: Slope Testing
• Aakash Patel, Dustin Tucker, Erin Tumney, Kevin Reich
• Graduate Student Mentor: Massimiliano Di Capua
The event photo album can be viewed on the department's Facebook page.
Published December 12, 2012