Empowering Experience and Innovation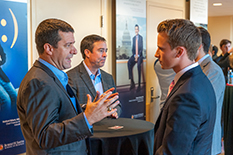 Alana Carmel and Jason Queen understand very well what it means to be creative and make a difference. They understand the complexities of real-world problems and what it takes to generate new ways of thinking to try to solve them. Both Carmel and Queen, who graduated a few years ago from the University of Maryland (UMD), say the experiential learning opportunities they had as students have helped them a great deal at IBM.
"Most of my senior level classes had a group project component, which always excited me," says Queen. "The group projects in my business and political science classes were usually designed to challenge [us] to work together, despite differing perspectives and opinions, to produce a high-quality end product. I didn't realize it at the time, but this is exactly what I now do on a daily basis as a business strategy consultant at IBM."
Maintaining a project schedule and making sure everyone sticks to their tasks and works towards an attainable goal in a timely manner is also a big part of their current roles. Alana Carmel credits the University of Maryland for preparing her for many of the demands she faces in her consulting job at IBM. "At UMD, I experienced many different kinds of situations that I now experience when working on team projects at IBM," says Carmel, an alum of the A. James Clark School of Engineering. "Managing projects and working under deadlines on tight budgets is something I did as a student, which has proven to be so valuable in the real-world. I feel confident in my ability to overcome challenging situations and work through problems and collaborate to find solutions because I've been there before and understand the process."
Asked how UMD research can connect with IBM's efforts to integrate technology for a smarter government, Conor Casey, an aerospace engineering student, pointed to automation. "IBM Watson's cognitive technology and natural language processing capabilities could definitely help streamline the understanding of major federal bills and executive orders," says Casey, who won the IBM Quality Enhancement Systems and Teams (QUEST) Case Competition last year.
Established in 1993 with help from an IBM grant, UMD's QUEST program is a multidisciplinary, reality-centered program for UMD undergraduates from the A. James Clark School of Engineering, the College of Computer, Mathematical, and Natural Sciences, and the Robert H. Smith School of Business. The program offers a challenging curriculum and a collaborative learning community, empowering students to break the barriers of the usual classroom and pursue their passions and dreams.
"There is a lot of research on campus about automating a lot of government processes to help improve their efficiencies," adds Casey. "UMD's Institute of Governmental Service and Research is a fantastic resource that could connect UMD and IBM to help improve the overall efficiency and effectiveness of all levels of government."
QUEST students work closely with faculty and staff, alumni, professional organizations and students from diverse majors, building a robust professional network and practicing the skills necessary for personal and professional success in the workplace and graduate school.
"Students are given a chance to collaborate with the thought leadership at IBM," says Joe Bailey, who directs the QUEST Program. "They learn how IBM goes about assembling diverse teams of people to help tackle difficult problems."
Take artificial intelligence (AI), for example. As a thought leader in this area, IBM might engage students to help figure out how the government could use AI to help better connect with people throughout the country. "This is a huge value proposition," Bailey points out. "Not just for the government that is trying to be of service, but also for citizens who are looking to the government to help provide social services, timely information and opportunities to improve themselves and their local governments."
Through the QUEST competition, Conor Casey learned how to apply pre-existing technologies and capabilities to solve unrelated problems. "By doing this, our [team's] solution solved an ongoing problem in a unique way, while using technology that is already available," he says. "I foresee this skill being useful in any career, as it adds value for the technology while simultaneously tackling long-term problems, which otherwise would seem unsolvable."
The University of Maryland's partnership with IBM also extends to a podcast series aimed at connecting research to practice. Last year, Mechanical Engineering Assistant Professors Mark Fuge, Jin-Oh Hahn, and Monifa Vaughn-Cooke participated in the podcast, "The Business of Government Hour," which is produced by the IBM Center for the Business of Government. In their episodes, the professors discussed their current research and the future of their fields.
Fuge talked about several aspects of his research in data-driven design and some of the current work at the IDEAL Lab. He also discussed current trends in big data practices and how they can be applied in both technical fields and in the government. Hahn detailed his research in the Laboratory for Control and Information Systems, including recent work in autonomous critical care systems. Vaughn-Cooke spoke about research related to human factors and the design of user-centric products and systems, the current work underway in the Hybrid-System Integration and Simulation Lab. She also discussed the role of virtual reality and its potential applications in addiction treatment.
For more information about the QUEST Program, click here. For more information about the podcast, click here.
Published June 1, 2018