Distinguished UMD Alumnus and Faculty Member Dr. Norris J. Krone, Jr. Passes at 88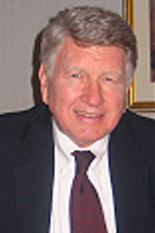 Distinguished University of Maryland (UMD) alumnus and faculty member Dr. Norris J. Krone, Jr. (Colonel, USAF Ret.) passed away June 28, 2019 at the age of 88. Krone was a driving force behind the development of the X-29 Forward Swept Wing Technology Demonstrator airplane, one of the first planes built with a practical forward swept wing design.
Krone received his B.S. in aerospace engineering from Maryland in 1955 before going on to a distinguished career in the U.S. Air Force. He became a fighter pilot in the Air Defense Command of the Air Force and was a veteran of over 200 combat missions as a forward air controller during the war in Vietnam, service for which he received both the Distinguished Flying Cross and the Bronze Star.
After his last Air Force flight assignment, Krone returned to UMD in 1972 to complete his Ph.D. in aerospace engineering. It was during his thesis research that Krone began to explore the feasibility of developing a practical forward-swept wing airplane capable of near sonic flight, especially in light of advancing technologies in composite structures and computer flight controls that could now support the design.
In his final role with the Air Force, Krone became Director of Flight Technology at DARPA, and led the development of the X-29 Forward-Swept Wing Technology Demonstrator airplane. In 1985, the X-29A became the world's first forward-swept wing plan to fly at supersonic speeds. A model of the X-29 was on display at the Smithsonian National Air and Space Museum from 1989 to 2011, and the first X-29 is on display in the Research and Development Gallery at the National Museum of the United States Air Force on Wright-Patterson Air Force Base near Dayton, Ohio.
For his efforts, Aviation Week recognized him as a major contributor to the Aeronautical Sciences and the American Institute of Aeronautics and Astronautics (AIAA) honored him with its Aircraft Design Award for an original concept that led to a significant advancement in aircraft design and technology.
In 2004, both the University of Maryland and the Department of Aerospace Engineering recognized him with Distinguished Alumni awards for his work and achievements.
Upon retiring from the Air Force, Krone served as the President and Chief Executive Officer of UMD's University Research Foundation (URF), an organization he helped found in 1981. The foundation operates several flight research aircraft and provides unique technical expertise across a broad range of research, development, and technical support programs.
In addition to URF, Krone founded the Maryland Small Aircraft Laboratory—an alliance of 22 organizations including the States of Maryland, Delaware, and New Jersey—sponsored by NASA.
Krone was also responsible for, or contributed to, many other developments in aeronautics technology, including the X-Wing Aircraft, the Advanced Tactical Cruise Missile, no-tail rotor helicopters, several unmanned air vehicles (UAV's), and reconnaissance systems involving tactical aircraft and sensors.
Krone's expertise, vision, and leadership in the fields of aviation and aerospace engineering research will be missed.
"Grumman X-29: The impossible fighter jet with inverted wings"
Published July 3, 2019