Distinguished Alumnus William Bissell Passes Away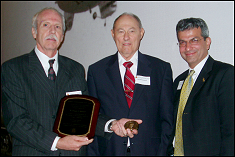 "The wing designer has been given his own wings!"
William S. Bissell (BSAN, '52) passed away on January 11, 2009, in Kalispell, Montana. Bissell graduated from the University of Maryland in 1952 with a Bachelor of Science Degree in Aeronautical Engineering.
Mr. Bissell turned his love of building model airplanes into a career when he joined Lockheed Aircraft Company upon graduation. Bissell was assigned to work in the Lockheed Advanced Development Project, known as the "Skunkworks," as a designer in 1954. His first project was the U-2. Later, Bissell and his group reengineered the U-2 and this new plane, known as the U-2R, was able to carry more fuel and reach a higher altitude than the original. Bissell also designed and built the JetStar, which was a 10-passenger personnel transport for the Air Force and was later used as a Presidential plane.
Bissell was a wing designer on the A-12, a Mach 3.2 photographic aircraft. He was a designer in the Wing Group for the SR-71 from 1962 to 1964 and they built this plane entirely out of titanium. He assisted in designing the forward fuselage of the L-1011 cockpit area, and helped design the wings for the XST (Have Blue) prototype. He was also the Wing Group Engineer for the exterior configuration design of the F-117A. After 40 years with Lockheed, Mr. Bissell retired and he and his wife moved to Bigfork, Montana.
In 2003, Mr. Bissell was inducted in the Department of Aerospace Engieering's Academy of Distinguished Alumni at the College Park Aviation Museum. That year, the event celebrated not only this class of Academy inductees, but also the 100th Anniversary of Flight and the 55th Anniversary of the Department. In his speech, Mr. Bissell gave thanks to his family and friends, sharing fascinating stories and anecdotes about his time at Maryland and at Lockheed.
Bill is survived by his wife of 57 years, Mary Bissell of Bigfork; three sons: Steve and wife Bonny of Oregon, Eric and wife Karen of Oregon; and Don and wife Cindy of Bigfork; and a daughter: Debbie Fulford and husband Kirk of Bigfork; a brother: Bob; one sister: Sally; seven grandchildren: Michael, Daniel, Sheila, Ben, Israel, Shaunna and Hannah; three great grandchildren: Alena, Kylie and Elliot as well as many other relatives and friends.
Memorial gifts can be given to the Edgewood Vista Senior Living, C/O Bill Bissell Memorial Bus Fund: 141 Interstate Lane, Kalispell, Montana 59901. These funds will be used for much needed transportation to enrich the lives of Bill's fellow residents.
Published February 18, 2009