Devoted to Diversity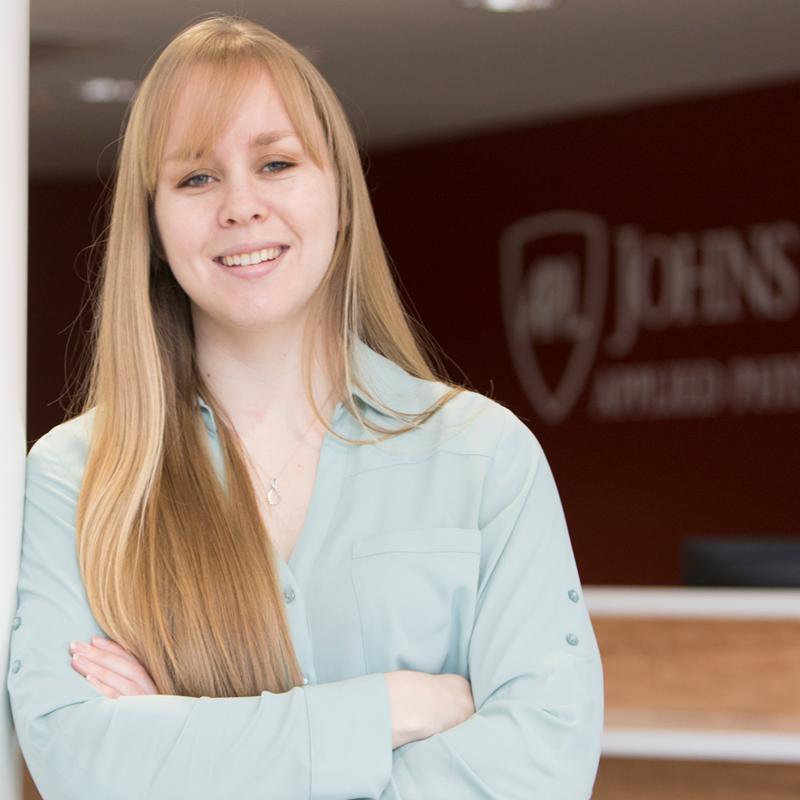 In a recent Aerospace America article, Clark School of Engineering alumna Sylvie DeLaHunt (aerospace engineering '14, M.S. '16) said, "Inclusion enables us to embrace the creative tension that stems from diverse teams, maximizing creativity and innovation." It is that passion and commitment to enhancing opportunities and inclusion for women and minorities in the workplace that has been a powerful force in DeLaHunt's career.
Since graduating, DeLaHunt has worked at the Johns Hopkins University Applied Physics Lab (APL) where she is currently a Guidance, Navigation, and Control Engineer and supervisor of the Air and Missile Defense's Future Weapon Concepts and Algorithms section.
While her career has progressed, she has maintained a strong commitment to improving diversity and representation in the workplace.
DeLaHunt has been actively involved with APL's Society of Women Engineers (SWE@APL), serving for two years as their Diversity and Inclusion Officer and this past year as President. She is also a representative for APL's Fostering Unity and Staff Empowerment Employee Resource Group.
In these roles, she has worked with APL leadership to host new diversity and inclusion events and initiatives such as leading their annual Women's History Month Celebration and creating a "Champions of Diversity and Inclusion" website.
"We're doing a lot of things to promote innovation, diversity and inclusion," said DeLaHunt. "I thrive in an environment where I feel my leadership team really cares about their people and empowers us to champion new efforts to improve our workplace culture and to recruit, retain, and develop top diverse talent."
In 2018, the Johns Hopkins Diversity Leadership Council recognized DeLaHunt's efforts during their 16th Annual Diversity Recognition Awards, acknowledging her work to expand outreach through the annual SWE@APL College Visit Day and hosting workshops like "Overcoming Obstacles Facing Women in STEM," at the DLC's 14th Annual Diversity Conference.
Beyond APL, DeLaHunt and fellow engineer Kerri Phillips have created a two-woman roadshow that they have presented to several organizations, discussing their experiences, efforts, and the challenges facing women pursuing STEM degrees.
"Engineering programs can feel really alienating for some students. Due to gender norms, young boys are more likely to pursue activities like building their own computers, experimenting with model rockets or working on their families' cars. As a result, men are more likely to enter college programs feeling passionate about engineering," explains DeLaHunt. "But women tend to come in with a more moderate interest and it can take time for that interest to build as they complete courses and discover topics they really enjoy."
According to DeLaHunt, building that interest can be challenging because this inequality of experiences can make some people feel out of place or unqualified right from the beginning.
My long term hope is that there is a cultural shift, that once we have more women and minority groups in the field, we can effect bigger change. Together, we can reshape perceptions about who will succeed in STEM and ensure that every aspiring engineer has role models and educational environments where they can thrive.
"When individuals come in with that moderate interest, and they observe passionate classmates placed on a metaphorical pedestal as the example of what one should be like as an engineering student, then that can create a gap with what they perceive they should be doing to be successful," adds DeLaHunt. "That makes people feel like they're not good enough, and they're playing catch up right from the start."
Finding ways to build more inclusive environments in STEM has been important to DeLaHunt since her time at Maryland, where as a graduate student, she was a founding officer and secretary of Aerospace Engineering's Women in Aeronautics and Astronautics (WIAA) organization.
"When I heard that a group of undergraduate students were trying to put this organization together, I just knew I had to be a part of it," said DeLaHunt.
WIAA, which just celebrated its fifth anniversary, not only works to foster a professional and supportive community for women in the aerospace engineering department, but they have successfully spearheaded events such as technical skills workshops for UMD students, and open houses aimed at area high school students to create interest and enthusiasm for engineering. These events have had a direct impact in the community as some past event attendees have now come to Maryland to pursue engineering.
WIAA, and members like DeLaHunt, were part of a grassroots evolution by several university-level organizations that helped drive the recent creation of the American Institute of Aeronautics and Astronautics (AIAA) Women of Aeronautics and Astronautics (WoAA), a group committed to increasing women and other minority groups' participation in the aerospace field. DeLaHunt is also a member.
Beyond WIAA, she penned an op-ed for The Baltimore Sun, "Encouraging female engineers," about her experiences and challenges as a woman pursuing engineering, and discussed how some STEM fields have evolved in ways that foster environments that can create barriers to success for women and minority students pursuing those fields.
Through the article, DeLaHunt connected with others who related to her story and experiences, and it was through those connections, and WIAA, that she really started to explore how she could be an advocate for change in a field she loved.
However, DeLaHunt thinks it is critical to think and act beyond just volunteer efforts and organizing workplace events, and she is determined to be a voice that can contribute to overall changes within the engineering community.
"It shouldn't just be about giving women and minorities the 'tools' to succeed. Instead, we should prioritize creating environments, in either academe or the workplace, where they can thrive," explained DeLaHunt. "We need more voices that support taking a really constructive look within organizations at what kinds of institutional obstacles we still need to dismantle."
That's the vision DeLaHunt has for the future.
"My long term hope is that there is a cultural shift, that once we have more women and minority groups in the field, we can effect bigger change. Together, we can reshape perceptions about who will succeed in STEM and ensure that every aspiring engineer has role models and educational environments where they can thrive."
Published June 18, 2020