Datta receives AIAA Foundation Award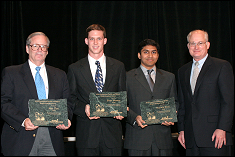 Supratik Datta (2nd from right), aerospace engineering doctoral student, receieved the prestigious 2008-09 AIAA Foundation Orville and Wilbur Wright Graduate Award. This award was given out at the 2009 Aerospace Sciences Conference in Orlando, FL in January. The Wright Graduate Awards provide $10,000 awards bestowed annually to four graduate-level students participating in research endeavors as part of their engineering/science graduate studies.
Datta is working in the area of smart materials and structures under the guidance of Professor Alison Flatau. His dissertation research involves experimental characterization and modeling of a structural magnetostrictive material called Galfenol for its potential application in sensors and actuators.
Published February 3, 2009