Congratulations to RASC-AL Competition Award Winners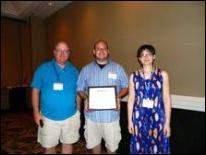 Congratulations to faculty advisor Dr. Dave Akin and the 17 aerospace engineering undergraduate students of the RASC-AL team on their second place victory at the 2012 RASC-AL design competition! Their award winning project titled Geosynchronous Satellite Servicing Operations (GeSSO) included the design for two identical manned satellite servicing vehicles (SSV), a robotic servicing module (RSM), and a deep space station (HOME). The design also utilized an array of fuel depots spaced throughout two different orbits.
Revolutionary Aerospace Systems Concepts-Academic Linkage (RASC-AL) design competition is intended to challenge university-level engineering students to create solutions for real world aerospace engineering challenges. The competition is designed to encourage new perspectives and innovation in space exploration design. Each team participating in the competition was evaluated by intensive criteria including: innovative/synergistic concepts/applications to enhance exploration mission architectures; rational of the mission concept; and system analysis—including identification of challenges and issues both to the vehicles and humans involved. The quality, coherence, and professionalism of the presentations were taken into account, as well as evidence of a credible and implementable project plan.
The UMD team dedicated months of time to completing and perfecting their project. As a result, they gained an excellent understanding of the fundamentals of spacecraft design while also improving their leadership, communication, and teamwork skills. As part of the competition, the team members were able to network with judges and guests attending and participating in the competition. Team members Marco Colleluori (senior), Elizabeth Lato (senior), and Jason Lu (senior) were chosen by their teammates to go to Florida for the competition. According to Marco Colleluori, one of the members of the award-winning team, "being successful in the aerospace field is undoubtedly about more than just understanding the science. It is important to get a feel for the politics, the hiring practices, the corporate culture, and where the industry is headed in the future. We got to people who had been in the industry for years and glean a little knowledge from their experience." By participating in the RASC-AL competition the students not only won an award recognizing their hard work and determination, but also learned about future trends in the aerospace industry and gained valuable skills to assist them in becoming even more successful aerospace engineers.
Published July 24, 2012