Burgers Program Features Topics in Turbulence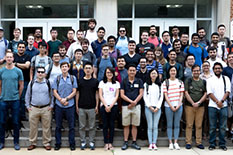 The University of Maryland (UMD) recently hosted a week-long summer workshop on turbulence that brought together professors from various universities and about 50 graduate students from 30 universities and 7 countries. The Burgers Program 2018 Research School on Fluid Dynamics: Topics in Turbulence was held on UMD's campus from June 4 to June 8, 2018.
Sponsored by the A. James Clark School of Engineering, the College of Computer, Mathematical and Natural Sciences (CMNS), and the Institute for Physical Science and Technology (IPST), the event offered graduate students an opportunity to develop a deeper and broader appreciation and understanding of turbulence and to build a professional network.
Faculty from Cornell University; New York University; University of California, Los Angeles; University of California, San Diego; Texas A&M University; Johns Hopkins University; George Washington University; and UMD delivered lectures and engaged in a variety of discussions related to turbulence. For the benefit of additional students across the world, each lecture was live-streamed.
The summer workshop was made possible through the generous support of the Air Force Office of Scientific Research, the National Science Foundation, the College of Engineering, CMNS and IPST. It was organized by Mechanical Engineering faculty members Johan Larsson and James Wallace together with Tamer Zaki from Johns Hopkins and IPST Director Christopher Jarzynski. Several other Mechanical Engineering faculty, including Ken Kiger, Jim Duncan and Michael Gollner also contributed in important ways.
More information about the summer workshop, including links to the recorded lectures, is available at burgers.umd.edu.
Published June 11, 2018