Briskman Whiting-Turner Lecture Predicts Growth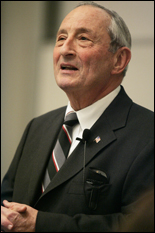 Robert Briskman, M.S. '61, electrical engineering, invented satellite radio when he was told it would be impossible to implement. The Sirius Satellite Radio co-founder explained how he did it in the semester's second and final Whiting-Turner Business and Entrepreneurial Lecture November 29 in the Kim Building lecture hall.
The key, according to Briskman, was establishing the right combination of technical, financial and marketing strengths at Sirius, which he co-founded in 1990. With information from extensive focus group sessions, the company determined that there was strong market interest in the satellite radio service and created a business plan that raised $1 billion in financial support in short order. Service criteria included: continuous availability of signal, large number of channels, and a mix of music, talk and possibly data for navigation and destination options.
The company, under Briskman's guidance, then created a product to serve the business plan; he stressed that it was crucial for technologists to create viable products, not technology for its own sake, and to assess implementation time accurately as this will directly impact funding and competitors' opportunity to enter the market and offer other products. He anticipates that growth in satellite radio will accelerate rapidly as the technology is more commonly installed in cars by manufacturers.
Briskman also described the challenges of satellite implementation, to provide full availability to mobile customers in environments where buildings and trees block the signal, and the three-satellite "constellation" Sirius operates in a "figure 8" orbit over the U.S., Canada and South America.
Sirius has agreed to merge with its only competitor, XM. The case is under consideration by government agencies.
Archived video of the lecture is available online.
Published November 30, 2007