Bilal Ayyub Receives ASCE Alfred Ang Award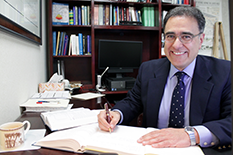 Bilal Ayyub, a professor of civil and environmental engineering and director of the Center for Technology and Systems Management at the University of Maryland (UMD), is the 2018 recipient of the Alfredo Ang Award on Risk Analysis and Management of Civil Infrastructure. This American Society of Civil Engineers award recognizes technical contributions of national and international significance in risk analysis, risk management, and lifecycle economics of civil infrastructure.
Ayyub has dedicated his roughly 30-year career to the design and management of complex systems throughout their lifecycle. He is the author and co-author of more than 600 publications, including eight textbooks and 14 edited books. He is also the editor-in-chief of the Journal of Risk and Uncertainty in Engineering Systems.
Ayyub is an affiliate of UMD's Center for Disaster Resilience, a distinguished member of the American Society of Civil Engineers (ASCE), and a fellow of the Society for Risk Analysis, Structural Engineering Institute, American Society of Mechanical Engineers (ASME), and the Society of Naval Architects and Marine Engineers. He is the recipient of several awards from ASCE, ASME, the American Society of Naval Engineers, the North American Fuzzy Information Processing Society, the Department of the Army, and Governor of Maryland.
Published October 23, 2018