Benedict Wins Young Scientist of the Year Award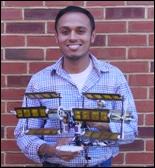 Dr. Moble Benedict has been awarded the 2012 Hal Andrews Young Engineer/Scientist of the Year Award. A premier award of the National Capital Section of AIAA, the Hal Andrews award is presented annually to a local AIAA member who has not reached their 35th birthday as of January 1st for the year of the award. The award recognizes a single significant professional accomplishment or longer-term outstanding career leadership/accomplishment in the technical disciplines of aeronautics and astronautics.
Professor Inderjit Chopra submitted a winning nomination on behalf of Dr. Benedict. Both were recognized at the AIAA-NCS Honors and Awards Banquet on June 8, 2012. Dr. Benedict is specifically being recognized for his leading-edge pioneering research in the analysis-based design, fabrication, and first successful flight of a direct lift aircraft employing a cycloidal rotor: The Cyclocopter Micro-Air Vehicle.
For more information on Dr. Benedict's research and cyclocopter flight videos please visit the links below:
http://terpconnect.umd.edu/~moble/
http://www.youtube.com/watch?v=mwgzCg9suTI
http://www.youtube.com/watch?v=sF8TV2PVWlI
Published June 11, 2012