Becnel Receives SAMPE Grant to Support STEM Outreach Activities in Partnership with FAMES®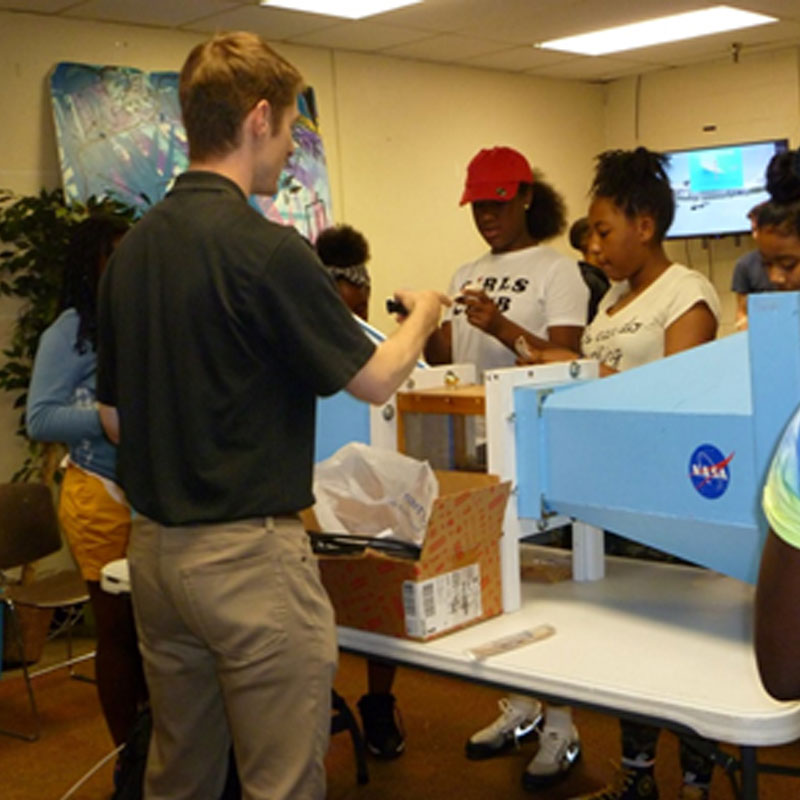 Aerospace Engineering faculty member Dr. Andrew Becnel was awarded a five-thousand dollar, two-year grant from the Society for the Advancement of Material and Process Engineering (SAMPE) to support STEM outreach activities with FAMES® | Finance, Arts and STEM.
In partnership with the University of Maryland's SAMPE@UMD student chapter, the FAMES®' mentors work through local Boys and Girls Clubs of Greater Washington (BGCGW) to provide 4-12 grade students with motivational and engaging experiences. Through STEM demonstrations, hands-on activities and interactions with teachers and students in science and technology fields, the mentors serve as role models for successful and fulfilling technical careers.
Becnel, along with department chair Dr. Norman Wereley, has been involved with FAMES® since 2017. The two have organized and supported a variety of activities introducing young students to Aerospace Engineering, exploring what it takes to become a successful engineer, teaching hands-on lessons in aerodynamics and airplane flight using balsa wood gliders, model wind tunnels and air cannons, and motivating the young students to seek technical careers.
"We are thrilled to work with Dr. Andrew Becnel, and look forward to the new SAMPE STEM outreach activities for this year," said Dr. Supriya Banerjee, director of FAMES® STEM programs and a member of the aerospace engineering board of visitors. "In addition to STEM demonstrations and lessons, Dr. Becnel provides the essential link between STEM education in school and the exciting and fulfilling range of career opportunities that proficiency in STEM subjects makes possible."
According to Banerjee, the key is effectively exposing and explaining to BGCGW students the importance of future college education.
"During the sessions with students, he covers what it take to be a successful engineering student, the courses to take while at school, and different types of engineering degrees available in college," explained Banerjee. "He also introduces the students to the profession of aerospace and mechanical engineering, such as the ongoing research in robotics, and the kind of facilities used in aerodynamics research like the University of Maryland's Glenn L. Martin Wind Tunnel."
Becnel recruits sophomore undergraduate Aerospace Engineering students to help teach the lessons and share their experiences at school in becoming engineers. According to Becnel, it's important for middle school-aged children to meet local students who can serve as role models for pursuing STEM degrees and a future in engineering.
"Our aerospace students' interactions with the Boys and Girls Club of Greater Washington (BGCGW) campers have been such a positive experience for everyone involved," said Becnel. "We are very happy to have SAMPE's financial support to provide even better experiences through the FAMES® organization."
While the realities of COVID-19 mean face-to-face experiences may be on hold for a while, Becnel is working with BGCGW to identify digital resources and activities—such as an online robotics tutorial—that will help them continue to interact with campers during this time of limited face-to-face meetings. They are also developing new activities to use when we can resume club visits later this year.
Through the SAMPE grant, one of the new activities Becnel wants to create is a "Composites and Materials" focused lesson based on the U.S. Department of Energy's Pacific Northwest National Laboratory "Materials Science and Technology Teacher's Handbook" that brings materials science to life in small learning settings.
Creating enthusiasm and engagement is a core component of Becnel's teaching philosophy, and while the lessons he and the undergraduates present to BGCGW summer camp participants are a regular hit, they also serve as a teaching and learning opportunity for the UMD students.
"Our students get to put their education to the test, too," said Becnel. "Explaining fundamental concepts like lift and drag, or composite materials, to the younger campers really requires them to distill the concepts into accessible and easy-to-understand lessons."
According to Banerjee, that enthusiasm, and the enthusiasm of the Maryland students, serves as one of the greatest motivators for the students at BGCGW engaged through FAMES® outreach.
She adds, "Thank you Dr. Andrew Becnel and Dr. Norman Wereley for all of your time and support."
About FAMES®
FAMES® | Finance, Arts and STEM is a 501(c) (3) non-profit organization dedicated to mentoring and educating underserved and underrepresented youth in Grades 4 to 12 in Finance, Arts, and STEM subjects. FAMES® programs inspire the students to attend college, bolster self-confidence and help them develop a path for future professional success. The student's accomplishment drives inclusion and participation in the diverse technology workforce of tomorrow.
Photos courtesy of FAMES®
Published July 20, 2020