Alumnus To Speak on Lean Dynamics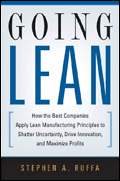 Stephen Ruffa, B.S. '82, aerospace engineering, will give the last
Whiting-Turner Business & Entrepreneurial
lecture of the fall semester on November 6 at 5 p.m. in the Kim Building lecture hall.
Ruffa's lecture is titled "Thriving in Uncertainty: How Leading Corporations Apply

'Lean Dynamics' to Drive New Innovation and Value."

Ruffa is the author of Going Lean: How the Best Companies Apply Lean Manufacturing Principles to Shatter Uncertainty, Drive Innovation, and Maximize Profits[LINK] and president of Lean Dynamics Research, a research, training, and management advisory firm focused on lean dynamics principles and practices.
The lecture will be preceded by a reception at 4:30 p.m. outside of the lecture hall.
Published October 29, 2008