Alumni Frontin and Stebbins Awarded NASA Fellowships
Two University of Maryland (UMD) aerospace engineering alumni, Cory Frontin (B.S. '14) and Spencer Stebbins (B.S. '14), have been awarded NASA fellowships.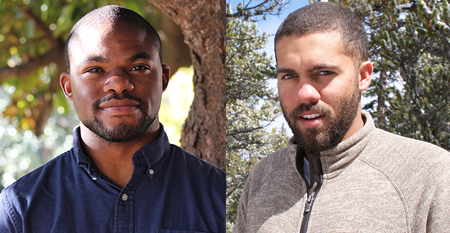 Spencer Stebbins (left) and Corey Frontin (right)
Frontin received a 2017 NASA Space Technology Research Fellowship (NSTRF), which provides training grants for students to conduct research at NASA centers. Frontin, raised in Bowie, Md., graduated from DeMatha Catholic High School. At UMD he was a member of the aerospace engineering department honors program and conducted research with Professor Derek Paley with the support of a NASA Aeronautics Scholarship. He worked on experimental boundary layer experiments as an intern at NASA Ames Research Center, before graduating from Maryland. Frontin then volunteered for a year with Americorps and served as a full-time construction volunteer with Habitat for Humanity (HH) of Metro Denver. After finishing with Habitat for Humanity, Frontin started at MIT, where he hopes to attain an S.M. and a Ph.D. in aeronautics and astronautics. In his free time, Frontin is an avid rock climber, snowboarder and reader.
Frontin's research consists of studying the energy transfer between unresolved and resolved scales in Large-Eddy Simulation, and using insights into this energy transport to design better sub-grid scale models. These will hopefully contribute to the improvement of the prediction of transition and separation- and other turbulent effects- in Large Eddy Simulations. In addition to formal research, Frontin is a member of MIT Hyperloop, a team competing in SpaceX's hyperloop design competition.
Stebbins received the NASA Aeronautics Scholarship and Advanced STEM Training and Research (AS&ASTAR) Fellowship for the 2016-2017 year. AS&ASTAR fellowships sponsor U.S. citizen and permanent resident graduate students who show significant potential to contribute to NASA's goal of developing the skills and competencies for the future workforce in our nation's STEM fields.
Stebbins is currently pursuing a Ph.D. at the University of Virginia. During his undergraduate years at Maryland, he worked with Professor Alison Flatau on the development of bio-inspired magnetostrictive flow sensors. His current project is in collaboration with Rolls Royce and focuses on the development of an anti-icing system for inlet guide vanes. With the NASA fellowship, Stebbins will switch focus from the prevention of ice accretion to understanding the aerodynamic impact of highly three-dimensional, scallop-shaped ice accretions on modern swept-wings near stall through the use of computational fluid dynamics. This project is in collaboration with colleagues from NASA, Office National d'Etudes et de Recherches Aérospatiales (ONERA), Boeing, the Federal Aviation Administration (FAA), University of Washington, University of Illinois at Urbana-Champaign and Wichita State University.
Through the AS&ASTAR program, graduate researchers have the opportunity to work collaboratively with leading engineers and scientists in the students' chosen area of study. They can take advantage of working at the host NASA center with their NASA Technical Adviser, acquire a more detailed understanding of the potential end applications of their research efforts, directly disseminate their research results within NASA and the associated U.S. lab community and enhance their understanding of the research process.
Published December 9, 2016