AIAA Hosts Royal Aeronautical Members Discussion Panel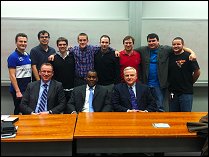 On February 28th, AIAA hosted a discussion panel with the Washington DC Chapter of Royal Aeronautical Society (RAeS). Entitled,"A Panel Discussion with International Aviation Industry Leaders," the discussion included three industry-leading members of the RAeS:
Ray Sealy: Management and Program Analyst, Contracts and Analysis Reporting Team Federal Aviation Administration, Washington DC Headquarters
David Williams: Vice President of Procurement for Airbus Americas
Ken Gazzola: Executive Vice President/Publisher Emeritus of the Aviation Week Group (Retired) Board Member Emeritus at the Smithsonian Institution's National Air and Space Museum
Topics of discussion included the future of the FAA, new technologies, the potential effect of the government sequester, research and development, and how UAV technology affected civil aviation.
To learn more about the UMD chapter of AIAA, please visit their website.
To learn more about RAeS, please visit the DC chapter's website.
Published March 5, 2013