Aerospace Students Stun Competition with All-Composite Aircraft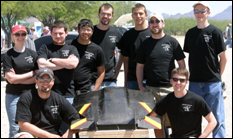 For eight UMD aerospace engineering students, the highlight of this past academic year was their participation in the national Design, Build, Fly (DBF) competition sponsored by the American Institute of Aeronautics and Astronautics, Raytheon and Cessna. Since the beginning of the Fall 2006 semester, students across the US and several other countries have been designing their own remotely piloted aircraft to meet mission goals that intend to simulate requirements for actual unmanned aerial vehicles (UAVs). This year, each team's design was to be capable of carrying either of two payload configurations of differing sizes and weights. Students were encouraged to also keep their designs as light and small as possible through a points system that influenced their final competition score. The final fly-off was held in Tucson, Arizona on April 20-22, 2007, with approximately 50 national and international teams in attendance.
Maryland's team consisted of 5 senior and 3 junior aerospace students. Work began last fall to select a design from several conceptual layouts that best balanced performance, final score, and ease of construction. The final design boasted a nearly circular wing shape, two electric motor-driven propellers, a mere 3-foot wingspan, and a 13-pound max takeoff weight. The defining feature of the UMD aircraft however, was the decision to use carbon fiber composite materials for 100% of the aircraft's structure. When construction began during winter break, the team was hard at work making the fiberglass molds that would become the forms from which each aircraft part would be made. Slowly, carbon fiber parts began to emerge daily from the molds, using UMD's perfected vacuum-assisted resin transfer process that ensured each part was strong, light, and showing a glossy finish.
Months of long, hard work were proven in mid-April, when the design took to the air for the first time, to the immense satisfaction and relief of the entire team. The aircraft flew twice at the competition where it quickly became a favorite of all in attendance due to its bold design and advanced carbon-fiber construction techniques that were arguably 3-5 years ahead of any other team at the competition. Any team member will quickly affirm that the skills learned by working with composite materials was one of the many unique opportunities afforded by participating in this year's team. Plans are already afoot for next year's team that will take the UMD skill set to the next level.
Published August 14, 2007