Aerospace Student Named 2014 Future Faculty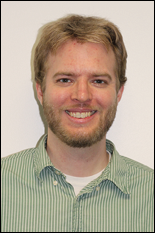 Department of Aerospace Engineering student Andrew Lind has been selected by the A. James Clark School of Engineering for the 2014 Future Faculty Program. This program was created to cultivate the next generation of engineering teachers.
Lind is a third year Ph.D. student working with Dr. Anya Jones in her Aerodynamics Lab. His research is on the experimental evaluation of helicopter rotor blades in reverse flow and aims towards the development of high-speed helicopters by providing improved understanding of the fundamental flow physics of a rotor blade in reverse flow.
Passionate about teaching, Lind was an instructor at the Benjamin Franklin Institute of Technology in Boston teaching courses in math, physics and mechanical engineering prior to joining Jones's lab in 2011. Lind is also currently a Graduate Lilly Teaching Fellow through the UMD Center for Teaching Excellence.
Lind received his Sc.B. from Brown University and his M.Eng. from Cornell.
The Future Faculty Program's mission is to increase the number of highly qualified teachers the Clark School produces for the world's engineering school and prepare selected Clark School doctoral students to achieve career-long success in the academic world as teachers and researchers. As part of the program, selected students are provided with a $3,000 travel stipend to present their research at professional conference and placed in leading institutions where their impact can be greatest and where they can continue to partner with the Clark School.
For more information, including how to apply to the Future Faculty Program, visit their website.
Published January 13, 2014