Aerospace Alumnus Selected as Aviation Week's "Twenty20s"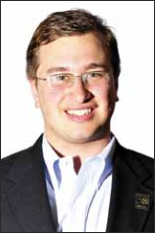 Department of Aerospace Engineering alumnus Kenneth 'Kip' Hart (B.S. '13) was selected as one of Aviation Week's "Tomorrow's Engineering Leaders: The Twenty20s." The award recognizes top science, technology, engineering, and math (STEM) students that represent the next generation of aerospace and defense talent.
"With the Twenty20 awards, Aviation Week seeks to identify students who are already making a difference, through their academic performance, the projects and research they undertake, and their engagement with the world beyond their classrooms," said Greg Hamilton, Aviation Week president, in their press release. "These students participate in diverse efforts, from tutoring their classmates to participating in organizations such as Engineers Without Borders and Habitat for Humanity, all while maintaining excellent scholastic standing."
At the University Maryland, Hart worked with Department Chair and Minta Martin Professor of Aerospace Engineering Norman Wereley as an undergraduate research assistant in the Composites Research Laboratory where he applied pneumatic artificial muscles to active control of morphing aircraft.
Hart is now a graduate student at Georgia Institute of Technology and works as a graduate research assistant, researching the aerodynamic effects on satellites and debris in low earth orbit.
In addition to his academic achievements, Hart is also the co-founder of the South African Lacrosse Project, a non-profit organization dedicated to teaching lacrosse and educating South African children affected by HIV.
The Twenty20s award program is a partnership between Aviation Week magazine and Raytheon to connect aerospace students with established leaders who have created many "firsts" driving innovation in the 21st century.
Winners were honored at Aviation Week's annual Aerospace & Defense Programs Conference held November 14, 2013 at the Arizona Biltmore in Phoenix, AZ.
Read more about Hart in the Department of Aerospace's winter 2013 issue of Aerocontact.
Published November 19, 2013