Aero Students Reach Out to Local Middle Schoolers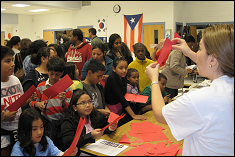 On Wednesday, Oct 26. Pauline Parent (graduate), Lina Castano (graduate), Zohaib Hasnain (graduate), and Jose Mondragon (undergraduate) participated in the annual Parkland Middle School Open house event. For the last several years the aerospace department has been partnered with Parkland, an aerospace magnet school, which is located in Montgomery County.
Elementary and middle school aged students who attended the event enjoyed simulation demos and RC helicopter demos. They also had the opportunity to try the simulator. Many of the grade schoolers were very enthusiastic, with one student staying behind after the session ended.
Participants also custom built and flew paper airplanes, and were encouraged to fix them if they did not fly. Our UMD facilitators gave simple, yet informative and age-appropriate explanations using fundamental aerospace concepts. Even some parents became active in the session and made their own paper airplanes. Clark School t-shirts were distributed to winners of a paper airplane competition.
The Aerospace Department continues to reach out to Parkland students in hopes of inspiring future engineers. More pictures from this event are available on the Aerospace Department at UMCP Facebook Page!
Published October 26, 2011