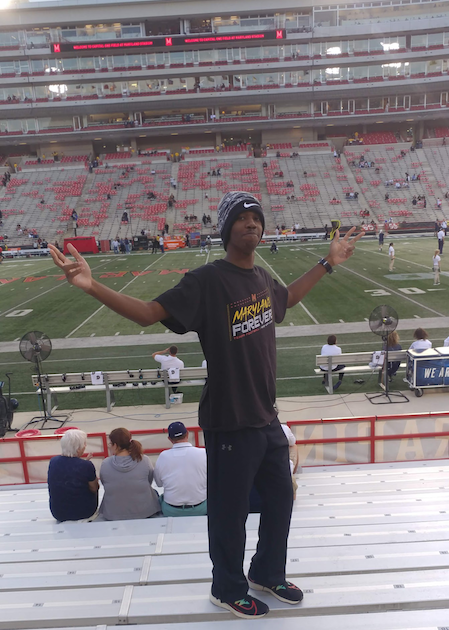 The hat became even more special now, because not only is it a gift from NASA, but it was more of a symbol of the friends that I made over the summer.
Rashaun Williams' path to UMD is as unique as his style.
When Rashaun Williams graduates from the University of Maryland (UMD) the ceremony will almost certainly be from the comfort of his home, where he will be wearing a distinctive winter beanie —  regardless of the weather —  and at the young age of 20.
Despite being nearly two years younger than most of his graduating colleagues, Rashaun — a first generation American — has moved around more than others. The Maryland native is originally from Brooklyn but has also spent time living in Long Island and South America — where his grandparents are from. 
Described as lively and upbeat, Rashaun can often be seen wearing his beanie bouncing and around College Park, but the origins of that traveling hat can be traced back to his time as a volunteer at NASA Goddard Visitor Center. He was given the winter hat as a gift for his time with NASA before he left to attend a summer camp with Johns Hopkins, where he became known for wearing the hat.
"The hat became even more special now, because not only is it a gift from NASA, but it was more of a symbol of the friends that I made over the summer," said Rashaun.
As Rashaun navigated his way through different high schools, his distinctive hats stayed with him and when he attended Prince George's Community College for his first two years of college study. Rashaun's father was an aircraft mechanic and the possibility of following in his footsteps only grew after meeting with the program director of student service, Aileen Hentz. Rashaun was introduced to the Department of Aerospace Engineering's Junior Endeavor Transfer program (JET) in the summer of 2019.
"We created the JET program in an attempt to recruit and retain bright and talented transfer students," said Hentz. "Rashaun is a prime example of a JET student who has taken full advantage of what the program has to offer. He was fully engaged in the summer JET course; he connected with aerospace faculty, staff, and students; he participated in meaningful research; and he has excelled in his aerospace coursework. I am confident that Rashaun will achieve continued success in his future endeavors, and I'm grateful the JET program was able to help him on his path."  
The JET program was designed to help ease the transition for Maryland external transfer students from area community colleges and get them on a two-year track to completing their degree in aerospace engineering at UMD.
The courses that Rashaun took in community college transferred over and in the summer before his first semester at UMD he took Introduction to Aerospace Systems as part of the JET program, which put him on track to finish in the Spring of 2021.
During his time in the JET and after completion of the program, Rashaun worked with Dr. V.T. Nagaraj in the Alfred Gessow Rotorcraft Center focusing on the production of carbon fiber blades. His time in the lab — as he describes it — was the "gem on his resumé."
In the summer of 2020, Rashaun worked as an intern at Textron Systems where he was responsible for various test procedures and reports. After graduation, he will work with Textron in a full-time roll in their leadership development program. The program entails two, one-year rotations that, Rashaun said, will most likely be in Textron's Texas and Kansas branches.
Top