University of Maryland Center for Orbital Debris Education and Research to Host Third Biennial Workshop
CODER2018 aims to connect academia, industry and government to address critical issues in orbital debris policy, management and mitigation.
FOR IMMEDIATE RELEASE August 2, 2018
CONTACT:
Mark Fitzgerald
301 405 4028
mfitzge5@umd.edu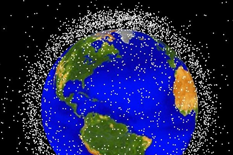 COLLEGE PARK, Md.—The Center for Orbital Debris Education and Research (CODER) has announced its third biennial workshop to drive collaborative efforts to address critical issues in the growing orbital debris problem. The workshop will be November 13-15, 2018 at The Hotel at the University of Maryland in College Park, Md.
The 2018 CODER Workshop will connect individuals and research from across academia, industry and government to foster collaboration to promote the long-term goal of developing space policies, practices and systems that will lead to improved understanding, control and the eventual remediation of Earth-orbiting debris.
Workshop topics will include:
Space Situational Awareness (Detection, Tracking, Characterization; and Information Fusion)
The Space Environment (Monitoring, Prediction, Evolution; and Space Weather and Atmospheric Models)
Mitigation/Remediation Practices and Technologies (Hypervelocity Impacts/Shielding; End of life disposal; and Rendezvous/Capture/Deorbit)
Space Policy (Information Sharing; Space Traffic Management; and International Collaboration)
Orbital debris is a global issue. The increasing density of orbiting space debris could significantly hinder future economy and national security as the world's reliance on satellites for communications, research and defense grows. Currently untrackable orbiting debris the size of a bullet carries the equivalent energy of an automobile at highway speeds and poses a threat to space-based communications, weather forecasting, commerce, scientific exploration, Earth observation and future space activities.
More Information:
The Center for Orbital Debris Education and Research (CODER) seeks to address all science, technology and policy aspects of the growing orbital debris issue. It continues to recruit and expand its research affiliate base, drawing expertise internationally from academia, government and industry. The Center endeavors to establish a fertile and collaborative research environment to support its affiliates in their ongoing efforts to address this important problem. For more information, visit www.coder.umd.edu