Two Proposals Accepted for First Phase of NIAC Program
NIAC Program aims to nurture visionary ideas that could transform future NASA missions with the creation of breakthroughs.
FOR IMMEDIATE RELEASE April 1, 2018
CONTACT:
Mark Fitzgerald
301 405 3762
mfitzge5@umd.edu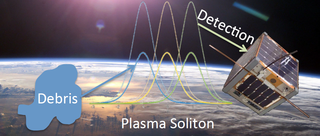 COLLEGE PARK, Md. (April 1, 2018) – Two professors in the University of Maryland's Aerospace Engineering Department—Christine Hartzell and Dave Akin—were recently informed that their proposals were accepted for the 2018 Phase 1 Program under the National Aeronautics and Space Administration (NASA) Innovative Advanced Concepts Program (NIAC).
Christine Hartzell proposed to evaluate the feasibility of mapping small (micron to sub-cm scale) orbital debris about Earth using a fleet of cubesats equipped with sensors to detect the plasma signature of the debris. Some of the benefits include the mapping of hazardous and currently undetectable orbital debris and enabling real-time evaluation of mitigation efforts.
"I am very happy that my proposal has been selected," Hartzell said. "This is a great opportunity to evaluate the feasibility of mapping of small orbital debris through plasma soliton detection."
Akin's proposal, "BioBot: Innovative Offloading of Astronauts for More Effective Exploration," recognized that extravehicular activity performance in gravitational environments is strongly affected by the weight of the suit and backpack, and that by removing the portable life support system and having it carried by a robot that follows the astronaut and handles the umbilical, weight on the crew is cut by more than half and suit center of gravity closely conforms to the body's center of gravity.
"I have found NIAC to be among the most competitive of NASA research programs, so I was delighted when I heard my proposal had been accepted," Akin said. "The Space Systems Laboratory has a long history of investigating ways for humans and robots to work together in space, and this will let us explore a new paradigm for the human exploration of the moon and Mars."
The NIAC Program aims to nurture visionary ideas that could transform future NASA missions with the creation of breakthroughs—radically better or entirely new aerospace concepts—while engaging America's innovators and entrepreneurs as partners in the journey. The program seeks innovations from diverse and non-traditional sources and NIAC projects study innovative, technically credible, advanced concepts that could one day "change the possible" in aerospace.
For more information, visit https://www.nasa.gov/directorates/spacetech/niac/index.html.