Drone Experts Weigh in on Public Perceptions, Safety
UMD's Matt Scassero Featured on BBB Podcast
FOR IMMEDIATE RELEASE January 14, 2020
CONTACT:
Robert Herschbach
301 405 2057
rherschb@umd.edu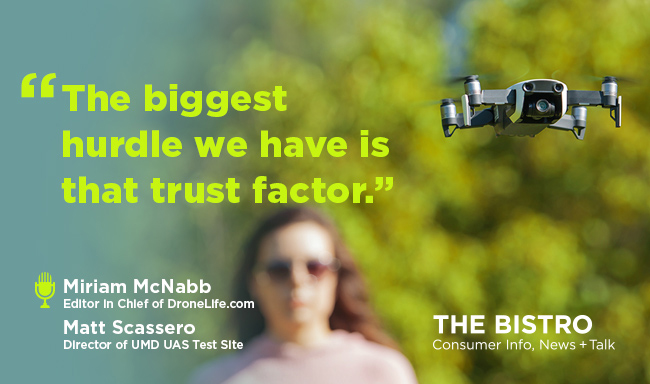 CALIFORNIA, MARYLAND—The head of a team that conducted the world's first ever drone delivery of a live organ for transplant will be discussing the unmanned aviation industry during a BBB National Program podcast to be aired on Wednesday, January 15.
Matt Scassero, director of the University of Maryland's UAS Test Site, will be joined by DroneLife.com editor-in-chief Miriam McNabb on the next episode of The Bistro, which will be available starting at 7 am at www.betterbusiness.blubrry.com.
McNabb and Scassero will share their observations concerning public perceptions concerning drones and steps the industry needs to take to promote better awareness and address consumer concerns about safety and privacy.
According to Scassero, "the best thing we can do is to do it right, to have the right procedures, and to be open and transparent with what we're doing. It's critical that we get people involved in this public conversation about what we're doing and how we're going to be doing it, the discipline and robust systems we're bringing over from manned aviation, and what we're taking advantage of with unmanned aircraft that make it better and safer."
In April 2019, Scassero's team flew a custom-designed UAS approximately three miles to deliver a kidney for transplant into a waiting patient. The first-of-its-kind mission was hailed internationally as a breakthrough that can help make organ transport more efficient and reliable.
Based at the University of Maryland's A. James Clark School of Engineering, the UMD UAS Test Site stands at the forefront of UAS rulemaking, commercialization, and national airspace integration. Formed in 2014, Test Site experts leverage their approximately 150 years of combined experience in military and civilian aviation, engineering, and project management to accelerate the safe, responsible application of UAS in public and private industries.For more information or to arrange an interview with Mr. Scassero, contact rherschb@umd.edu.