Clark School Partners with Korea Electronics Technology Institute to Advance Energy Technologies
FOR IMMEDIATE RELEASE April 23, 2018
CONTACT:
Melissa L. Andreychek
(301) 405-0292
mandreyc@umd.edu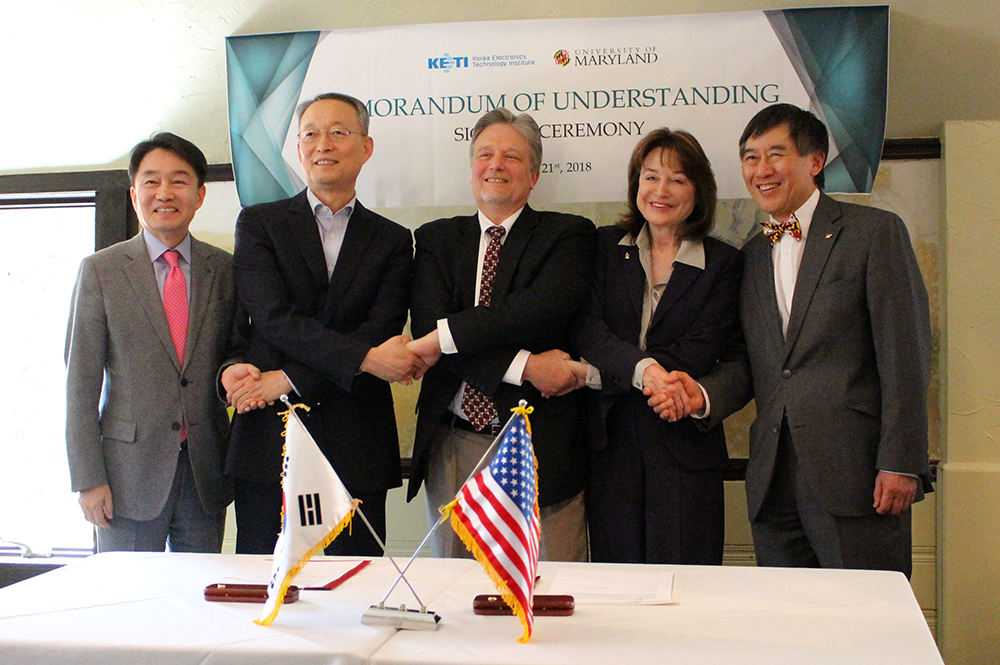 College Park, Md. — The University of Maryland, College Park (UMD) and the Korea Electronics Technology Institute (KETI) located in Seongnam, Republic of Korea, have announced a five-year partnership to accelerate research and innovation of energy technologies.
UMD, led by the Maryland Energy Innovation Institute (MEI2) at the A. James Clark School of Engineering, and KETI will cooperate and develop joint projects in fields of common interest. These fields include electrochemical energy storage and conversion, innovative power plant cooling technologies, energy efficiency and building heating/cooling, advanced energy materials, and intelligent transportation systems.
"The University of Maryland is already a demonstrated leader in sustainable energy research and technology transfer. This new partnership with the Korea Electronics Technology Institute will expand our capabilities to share knowledge, accelerate research discoveries, and create new technologies that advance our state, national, and international progress toward a more sustainable future," said University of Maryland Provost Mary Ann Rankin.
"The stars align in this collaboration," said University of Maryland President Wallace D. Loh. "It brings investment to Maryland, combines together two world leaders in energy research and innovation, and will help advance sustainability."
Last year, Maryland Governor Larry Hogan authorized $7.5 million in state funding for MEI2, a UMD-based initiative that is designed to catalyze clean energy research programs at academic institutions in the state and attract and develop private investment in clean energy innovation and commercialization. UMD officials say the partnership provides a unique capability to move toward this goal through the exchange of UMD and KETI faculty, students, and other scholars for research, teaching, and study; joint research activities; and the exchange of scholarly publications and other information, including library collections and services.
"The Maryland Energy Innovation Institute was created to advance energy innovation by translating university research to companies and jobs for the State of Maryland. This collaboration with the Korea Electronics Technology Institute will provide additional resources to accomplish this mission, initially with respect to research but ultimately toward commercialization of the developed technologies," said Eric Wachsman, director of MEI2 and William L. Crentz Centennial Chair in Energy Research at UMD.
"Moreover, we are particularly excited by the support of the Korean Ministry of Trade, Industry, and Energy as we create a stronger partnership between Maryland based and Korean energy industries," added Wachsman.
On April 21, representatives from UMD, KETI, and the Korean Ministry of Trade, Industry, and Energy gathered in Potomac, Maryland, to sign a memorandum of understanding to officially launch the partnership.
The A. James Clark School of Engineering at the University of Maryland serves as the catalyst for high-quality research, innovation, and learning, delivering on a promise that all graduates will leave ready to impact the Grand Challenges (energy, environment, security, and human health) of the 21st century. The Clark School is dedicated to leading and transforming the engineering discipline and profession, to accelerating entrepreneurship, and to transforming research and learning activities into new innovations that benefit millions. Visit us online at www.eng.umd.edu and follow us on Twitter @ClarkSchool.