Whalen Wins NSTRF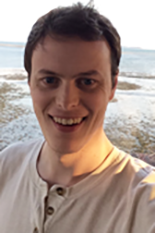 Thomas Whalen, a Ph.D. student and graduate research assistant in the High-Speed Aerodynamics and Propulsion Laboratory, won a NASA Space Technology Research Fellowship (NSTRF) for research related to the characterization of separation events in high-speed flows. Advised by Assistant Professor Stuart Laurence, Whalen's research is important for improving trajectory prediction capabilities of de-orbiting space debris and precluding re-contact of rocket boosters during payload ascent.
NASA Space Technology Fellows perform innovative, space technology research at their respective campuses and at NASA Centers and/or at nonprofit U.S. Research and Development laboratories. Awards are made in the form of training grants to accredited universities.
Whalen earned a B.A. in physics from Dartmouth College and worked at the Chandra X-Ray Center in Cambridge, MA.
"I wanted to join a field with practical applications that also utilizes the physics foundation that I gained as an undergraduate," he said "Specifically, I was interested in the design of hypersonic vehicles."
Published October 9, 2018