Wereley Steps Down as Aero Chair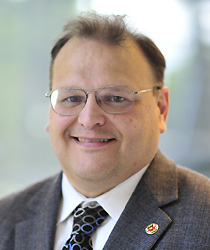 Minta Martin Professor of Aerospace Engineering Norman M. Wereley, who has chaired the department since May 2012, has announced his decision to step down from the post. He will continue his role as an endowed professor and as director of the Composites Research Laboratory (CORE).
A transition plan is under way, with Wereley's successor to be named in July.
As chair, Wereley presided over robust growth in the aerospace engineering department that included increases in student enrollments and research expenditures. The scope of expertise in the department has expanded as well, with Wereley hiring new faculty in the areas of space science, autonomous flight vehicles, helicopter aeromechanics, mechatronics, as well as experimental and computational fluid dynamics for hypersonic flight. He also established the Distinguished Professorship in Rotorcraft.
Support for students has been a priority for Wereley, with several undergraduate and graduate scholarships launched under his leadership. In 2020, Millennium Engineering and Innovation principal owner Kerry W. Wisnosky and his wife, Robin N. Wisnosky, established the Norman M. Wereley Endowed Scholarship in Aerospace Engineering Education to provide merit-based support for undergraduates.
Wereley's time as chair saw historic "firsts"—perhaps most notably the first-ever transport by drone of a live organ for transplant. The successful mission, carried out by the University of Maryland UAS Test Site in collaboration with the University of Maryland Medical Center (UMMC), got its start with UMMC transplant surgeon Joseph Scalea contacted Wereley to discuss the feasibility of such an idea.
Wereley took up the challenge with enthusiasm, marshalling departmental resources and helping to develop the concept and methodology that provided the basis for the flight.
"Nothing like this had ever been done before, and my guess is that many a department chair would have greeted it with a flat-out no—too risky, even crazy," said Matt Scassero, director of the UMD UAS Test Site. "But Norm's reaction was just the opposite. From an engineering perspective, he understood that it was doable. And he saw the immense value of being the first to accomplish such a mission."
"It's that kind of bold thinking that characterizes a world-class engineering program," Scassero said. In 2020, the Helicopter Association International honored the endeavor with a Golden Hour Award—the second time, following the Gamera human-powered helicopter in 2012, that the department has received this distinction.
Wereley has helped drive other technological feats as well: he played a key role in the program to design, develop and flight test the first magnetorheological seat suspension system in a helicopter, the SH-60 Seahawk.
University of Maryland (UMD) President Darryll Pines, a long-time colleague of Wereley's, lauded his accomplishments as chair.
"Norm has led the UMD Department of Aerospace Engineering during a historic time, one that has seen an increased focus on emerging technologies such as robotics and unmanned aircraft," Pines said. "He initiated one of UMD's proudest engineering feats: the first-ever delivery by drone of a live organ for transplant. As chair, Norm worked tirelessly to support student competitions and activities, and he has been a strong advocate for diversifying the program and fostering greater inclusion through his support for Women in Aeronautics and Astronautics (WIAA) and diversity initiatives within the department."
"Thank you, Norm for your service as chair. I wish you all the best."
Wereley is a fellow of the American Society of Mechanical Engineers (ASME), the Institute of Physics, the American Institute of Aeronautics and Astronautics (AIAA), the International Society for Optics and Photonics (SPIE), and the Vertical Flight Society. He has been awarded the ASME Adaptive Structures Prize, the SPIE Lifetime Achievement Award in Smart Structures, and the ASME Ephrahim Garcia Best Paper Award in Mechatronics.
While chair, Wereley maintained an active and productive research program resulting in the publication of over 100 journal articles, nine book chapters, 11 patents, and four edited books.
"Norm has been a tremendously effective chair," said Robert Briber, interim dean of the A. James Clark School of Engineering. "He inherited a top-flight program and took it to new heights. All of us at the Clark School are deeply grateful for his leadership, and are excited to see what he'll do in his return to full-time to research and teaching."
Published May 28, 2021