Robinson and Young Awarded Society of Satellite Professionals International Fellowships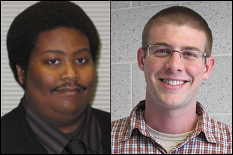 COLLEGE PARK, Md. – The University of Maryland (UMD) Department of Aerospace Engineering and the Society of Satellite Professionals International (SSPI) have awarded scholarships to aerospace doctoral students Ryan Robinson and Jarred Young. Each student will each receive $4000 toward his Ph.D. studies.
Robinson works in the UMD's Smart Structures Lab and has been researching robotic manipulators that employ pneumatic artificial muscles (PAMs). PAMs are extremely lightweight actuators that provide high power to weight ratios but are also naturally compliant. This combination enables robots that perform heavy lifting tasks to operate more safely around humans. Robinson's research is sponsored by the U.S. Army Telemedicine and Advanced Technology Research Center (TATRC) through Phase I and II Small Business Innovation Research (SBIR) grants, which were awarded to UMD in collaboration with Techno-Sciences, Inc. Techno-Science's research is intended to produce robotic manipulators strong enough to lift and carry a human while remaining as light, portable and efficient as possible. These systems are envisioned for casualty extraction on battlefields or lifting patients in hospitals. Future work will focus on modeling and advanced algorithms to provide greater control and combining an arm with a visual system to demonstrate hand-eye coordination.
Robinson said his great affinity for math and science, as well as his fascination with aircraft, spacecraft and robotics, inspired his interest in this area of research and continued tenure with the University of Maryland Aerospace Engineering Department. Robinson earned his B.S. and M.S. from UMD In 2009 and 2012, respectively and has been with the department for eight years.
Young completed his B.S. in Aerospace Engineering from the University of Maryland in 2009, and he is currently working under Dr. Raymond Sedwick with the Space Power and Propulsion Lab. His research interests include space propulsion systems, electrostatic thruster technology and plasma-material interactions. Young was inspired to work with space technology by his family, especially his grand-father William, who was a machinist for NASA Goddard Space Flight Center.
Young is working on research in the area of plasma-material interactions. The project, titled "High Energy Plume Impingement on Spacecraft Systems," involves using a specially-designed miniature ion engine that will create an ion plume that could be typically found in a formation flight environment. A variety of materials will be immersed in the plume to study the possible damage effects on typical spacecraft material and components, such as kapton or solar cell cover glass. Young has also worked on the Lunar Reconnaissance Orbiter (LRO) and Soil Moisture Active Passive (SMAP) projects as part of an internship with NASA Goddard. As a NASA intern, he also worked on a research project looking at pilot's reactions to differing weather conditions using a low-fidelity flight simulator and eye-tracking system.
While in graduate school, Young has also been the recipient of the Louis Stokes Alliance for Minority Participation Bridge to the Doctorate Fellowship (2009-2010), the National Minority STEM Fellowship (2010-2012), and the Alfred P. Sloan Scholarship (2012-present).
The SSPI scholarship is awarded to individuals who have demonstrated a commitment to pursue education and career opportunities in the satellite industry or a field making direct use of satellite technology. SSPI promotes the growth of the satellite industry by educating the public about the contributions of satellites to business, government and human welfare and connecting satellite professionals worldwide through education, knowledge-sharing and fostering professional relationships. SSPI scholarship candidates are selected on the basis of academic and leadership achievement; demonstrated potential for significant contribution to the satellite communications industry; and production of a scientific, engineering, research, business or creative submission that meets high standards.
For more information:
About the Society of Satellite Professionals International (SSPI), visit their website.
About Department of Aerospace Engineering, visit their website.
Published November 5, 2013