FPE's BRE Experiment on the ISS Continues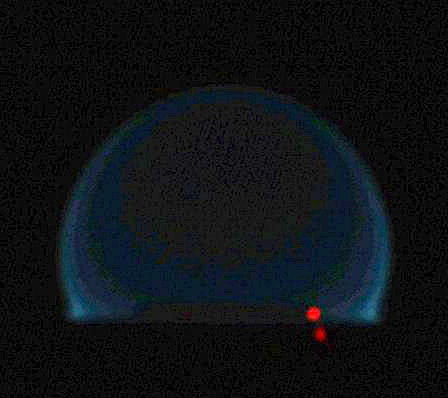 After a one-year hiatus, the Burning Rate Emulator (BRE) – an experiment that focuses on spacecraft fire behavior, currently aboard the International Space Station (ISS) – began again on September 3. The BRE experiment – first ignited on the ISS on February 8, 2019 and managed by NASA astronauts – will be run once each week through mid-November of this year.
The BRE uses gaseous fuels to determine the flammability of solids in microgravity. The BRE burners — flat, round and porous with embedded heat-flux sensors — allow measurements of burning rate, extinction characteristics, and radiative environments for a broad range of solids. The tests are offering information about how materials, such as paper and plastic, burn in microgravity.
"The biggest surprise so far is that these flames burn a long time," said FPE Professor and Co-Investigator, Peter Sunderland." Most people predicted they would go out quickly, but we've learned that isn't the case at all." The observations suggest that several materials previously thought to safe are in fact flammable in microgravity.
This experiment, supported by NASA and coordinated by Dennis Stocker of NASA Glenn, was launched into orbit aboard the SpaceX Dragon capsule on June 3, 2017. Additional team members include Parham Dehghani (ME Ph.D. student), John deRis, Liora Mervis (FPE B.S. student), James Quintiere (PI and FPE Professor Emeritus), and Anna Wright (FPE M.S. student).

Related media:
UMD Fire Researchers Ignite the First of Two Space Station Experiments, Feb 2019
Published September 10, 2020